Portland Announces Solar at Brownstone Intermediate School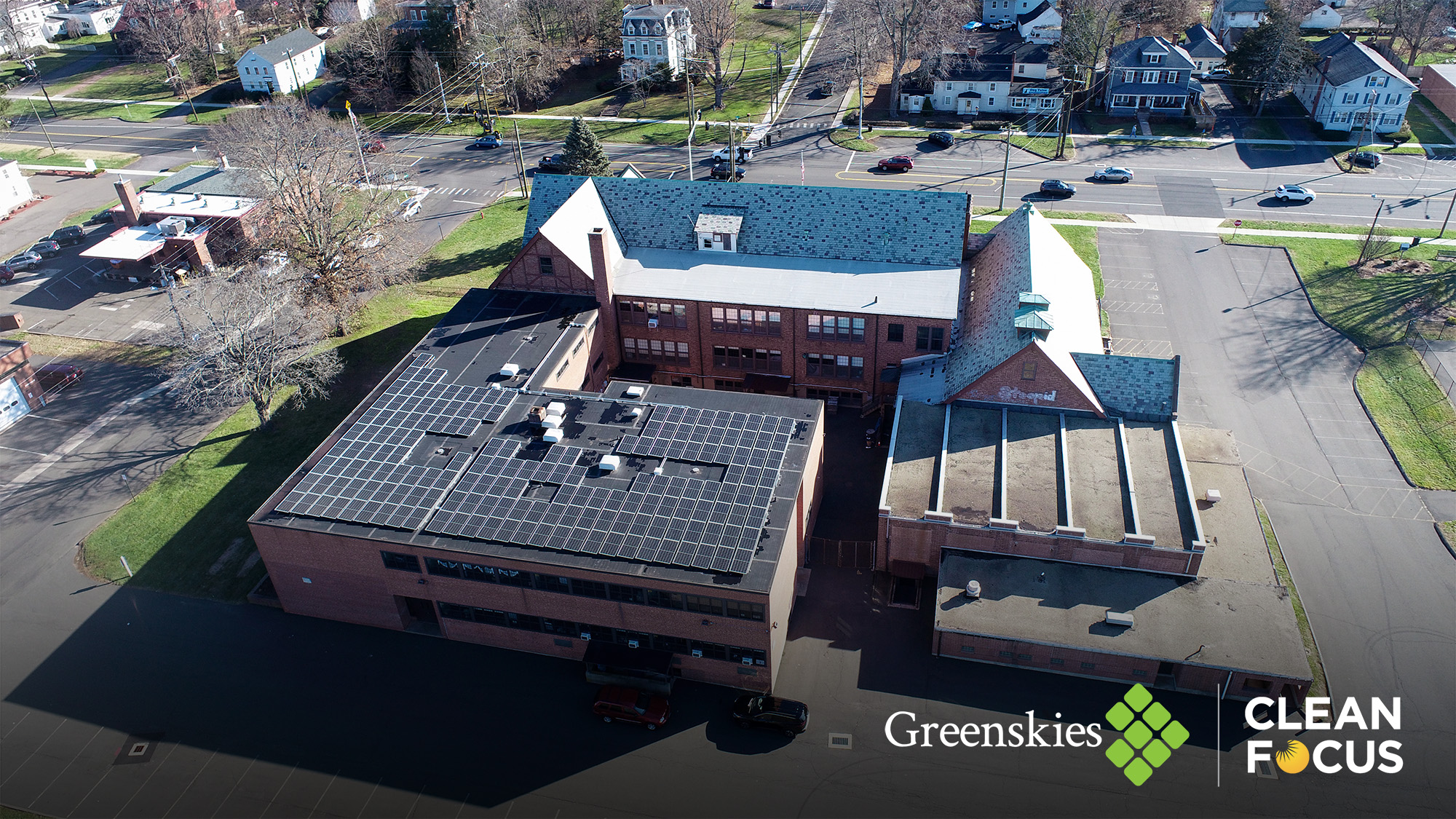 The Town will save on their energy costs thanks to Connecticut Green Bank's Solar MAP
Portland, CT (Apr. 4, 2023) – The Town of Portland is proud to announce the installation of solar photovoltaic (PV) system at Brownstone Intermediate School, 14 Main Street. The 67 kW system is projected to save the Town more than $10,000 annually in energy costs and more than $206,000 over the term of the power purchase agreement (PPA). This project was installed by Greenskies Clean Focus and was part of the Connecticut Green Bank's Solar Municipal Assistance Program (MAP), which makes every step of the solar process easier for towns. Portland is one of the first towns to complete the program which is now in its fourth year assisting dozens of towns with solar support.
"We are thrilled to have this new solar system installed and active in Portland. Being able to help the environment while at the same time saving on our energy costs is an enormous win-win for everyone." Ryan Curley, First Selectman
Through Solar MAP, the Green Bank provides technical support to municipalities to develop solar PV projects on municipal buildings, such as town halls, emergency services buildings, schools, and more. The Green Bank also provides financing for the solar systems through a PPA, which allows the municipality to access solar with no upfront installation costs, no new debt to incur, and no operations and maintenance costs.
"As one of our first group of Solar MAP towns, Portland has been an excellent partner as the Green Bank team supported the project from inception through completion. We are excited to see this solar installation at Brownstone energized and begin saving the school money," said Mackey Dykes, Vice President of Financing Programs at the Green Bank.
"Greenskies is thrilled to see the solar project at Brownstone Intermediate School come to fruition," said Stanley Chin, President and CEO of Greenskies Clean Focus. "We are proud to partner with Connecticut Green Bank and the Town of Portland to help reduce operating costs for years to come with the addition of clean, renewable solar power."
Inclusive Prosperity Capital (IPC), a non-profit investment fund dedicated to financing clean energy projects that benefit traditionally underserved markets and projects, is partnering with the Green Bank to own and maintain the system.
"Inclusive Prosperity Capital is thrilled to support the Town of Portland, and the Green Bank in its efforts throughout Connecticut in support of these catalytic partnerships," said John D'Agostino, Managing Director at IPC. "This project is a perfect example how effective partnerships between mission-aligned organizations can expand access to clean energy."
For more information on the program or to have someone contact you about participation, please visit ctgreenbank.com/solarmap/.
About the Connecticut Green Bank
The Connecticut Green Bank was established by the Connecticut General Assembly in 2011 as the nation's first green bank and has since supported the creation of more than 26,000 green jobs in the state, while reducing the energy cost burden on over 66,000 families, businesses, and nonprofits. The Green Bank's vision is a planet protected by the love of humanity and its mission is to confront climate change by increasing and accelerating investment into Connecticut's green economy to create more resilient, healthier, and equitable communities. This is accomplished by leveraging limited public resources to scale-up and mobilize private capital investment into Connecticut. In 2017, the Connecticut Green Bank received the Innovations in American Government Award from the Harvard Kennedy School Ash Center for Democratic Governance and innovation for their "Sparking the Green Bank Movement" entry. To date, the Green Bank has mobilized nearly $2.5 billion into the State's green economy. This has reduced the energy costs for thousands of families and businesses, and reduced greenhouse gas emissions that cause climate change and worsen public health. Learn more at www.ctgreenbank.com.
About Greenskies Clean Focus
Greenskies Clean Focus offers a full suite of decarbonization solutions, including onsite and offsite solar, battery storage, microgrids, and CCHP. Our vertical integration delivers the most cost-competitive solutions for commercial, public sector, and utility energy users throughout the US. From beginning to end, our customers work with a single delivery team. Greenskies originates, develops, constructs, and operates, while Clean Focus finances and owns the systems. Since our founding in 2009, we have constructed and operate 310 MW of renewable energy facilities across 578 sites in 19 states. Solar Power World ranks Greenskies Clean Focus as the number one commercial solar developer in the Northeast and top three in the US, based on cumulative kW installed. For more information, please visit www.greenskies.com
About Inclusive Prosperity Capital
Inclusive Prosperity Capital, Inc. ("IPC") is a not-for-profit investment fund scaling clean energy financing solutions that channels investment capital to program partners in communities that need it most. As a spin-out and strategic partner of the Connecticut Green Bank, IPC is focused on scaling its work in Connecticut and expanding its successful model nationwide by accessing mission-driven capital and partnerships. IPC operates at the intersection of community development, clean energy finance, and climate impact. We believe everyone should have access to the benefits of clean energy, helping to deliver Inclusive Prosperity. For more information about Inclusive Prosperity Capital, please visit https://www.inclusiveprosperitycapital.org.
###