New Jersey School District Saves $240,000 in Energy Costs with Solar from Greenskies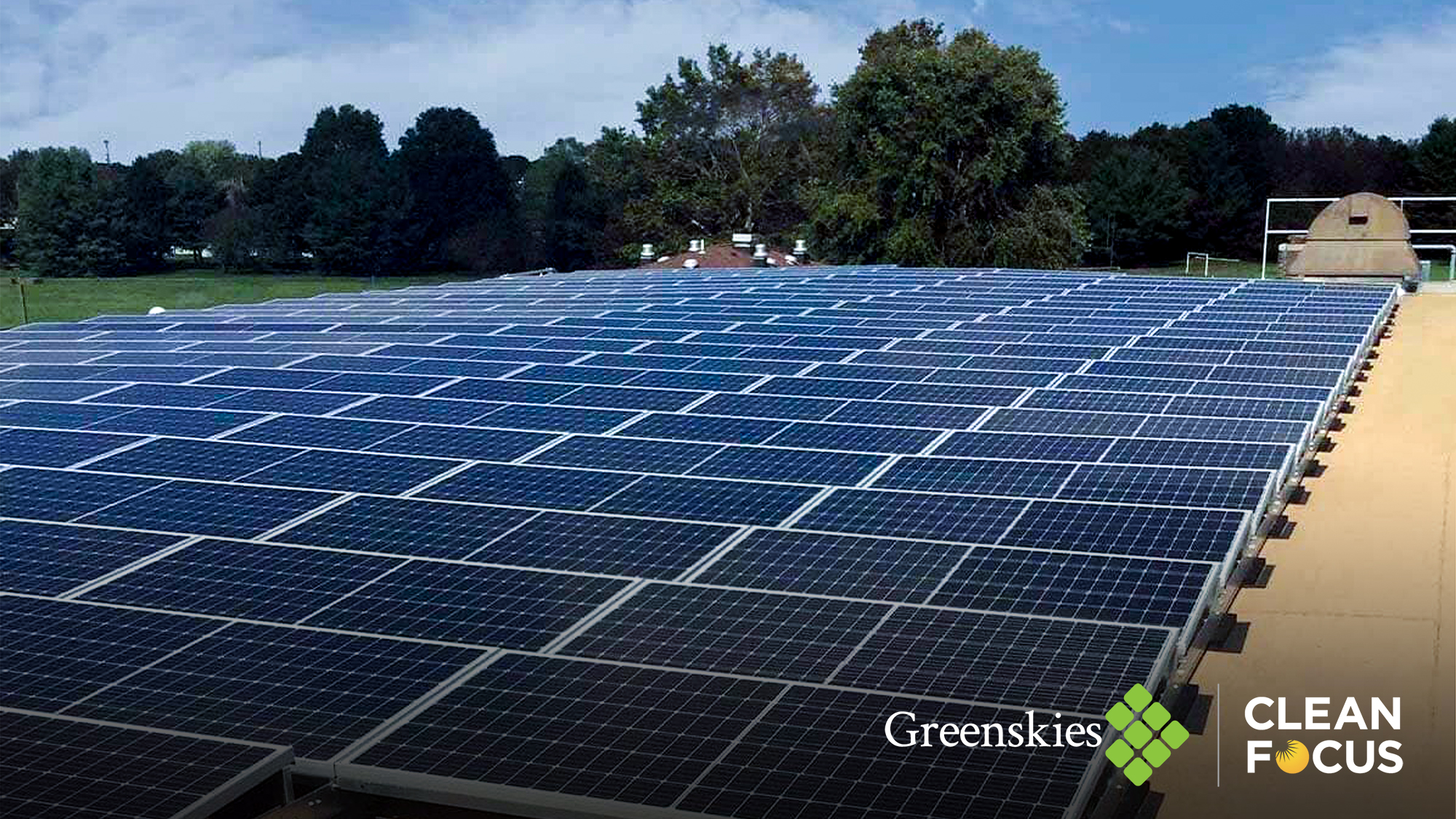 Greenskies Brings Over 3 MW of Solar to West Windsor-Plainsboro Regional School District
North Haven, CT (June 28, 2023) – Greenskies Clean Focus, a national leader in renewable energy solutions, has completed seven rooftop solar systems totaling 3.31 megawatts (MW) for the West Windsor-Plainsboro Regional School District.
Greenskies' partnered with Pfister Energy, a top commercial solar developer and engineering, procurement, and construction (EPC) contractor based in Hawthorne, New Jersey, who installed more than 8,600 solar panels on the roofs at:
Dutch Neck Elementary School (108.57 kW)
Maurice Hawk Elementary School (487.02 kW)
Millstone River School (198.27 kW)
Village School (503.195 kW)
Thomas R. Grover Middle School (790.79 kW)
High School North (693.00 kW)
High School South (534.38 kW)
"Pfister Energy is thrilled to have been involved with installing over 3 MW of solar energy onto the rooftops of the schools in the West Windsor-Plainsboro Regional School District," said Sean Quin, Senior Vice President of Strategy & Business Development of Pfister. "These projects allow the township and school district to save on energy and spend more on educational programs that will directly benefit the students."
These solar projects were made possible through a 15-year solar power purchase agreement (PPA) with Greenskies. The PPA agreements enable the school district to install solar at no cost and purchase the electricity generated by the systems at a reduced rate, compared to traditional utility rates.
"Greenskies is pleased to provide the West Windsor-Plainsboro RSD with a low, fixed-rate PPA," said Stanley Chin, president and CEO of Greenskies. "Protecting the District's budget from unpredictable utility rate hikes for the next fifteen years, creates beneficial stability that will benefit students while advancing access to renewable energy and sustainability goals."
According to Schneider Electric, the District's energy services company, the solar arrays will produce enough clean, renewable energy to offset approximately 21% of the school's annual electricity use, resulting in over $3,500,000 savings over the life of the systems.
"These solar PV systems will not only reduce costs now but will protect the District from future electricity price increases," said Dan Riggle, Program Manager at Schneider Electric. "Having a PPA electric rate that is fixed for the next 15 years provides budgetary certainty for West Windsor-Plainsboro RSD, which is especially important considering the escalating prices we see in so many aspects of current life."
These solar PPAs are part of a larger Energy Savings Improvement Program (ESIP) developed by Schneider Electric. This ESIP has allowed West Windsor-Plainsboro to realize over $30M in school facility improvements such as new LED lighting and heating, ventilation, and air conditioning (HVAC) systems through cost savings, financing, and grants/rebates. Solar consultant Talva Energy assisted with the development of the solar PPA RFP and coordination from pre-construction to successful competition.
Over the next 15 years, these solar projects will offset around 41,250 metric tons of carbon dioxide (CO2), equivalent to the greenhouse gas emissions from 9,180 gas-powered cars or the carbon sequestered by 49,000 acres of U.S. forests. (Source: US EPA Greenhouse Gas Equivalencies Calculator)
"These solar projects provide our District and community with significant cost savings and improve our schools' environmental impact," said Dr. David Aderhold, Superintendent, West Windsor-Plainsboro Regional School District. "We are doing our part to educate and model environmentally conscious behaviors for our students while contributing to creating a better world for their future."
Building upon these successful projects, West Windsor-Plainsboro Regional School District continues to seek ways to make school operations more sustainable and cost-efficient.
About Greenskies Clean Focus
Greenskies Clean Focus offers a full suite of decarbonization solutions, including onsite and offsite solar, battery storage, microgrids, and CCHP. Our vertical integration delivers the most cost-competitive solutions for commercial, public sector, and utility energy users throughout the US. From beginning to end, our customers work with a single delivery team. Greenskies originates, develops, constructs, and operates, while Clean Focus finances and owns the systems. Since our founding in 2009, we have developed and constructed 310 MW of renewable energy facilities across 578 sites in 19 states. Solar Power World ranks Greenskies Clean Focus as the number one commercial solar developer in the Northeast and top three in the US, based on cumulative kW installed. For more information, please visit www.greenskies.com
About Pfister Energy
Pfister Energy, a leading turnkey commercial, industrial, and utility-scale solar energy company and EPC contractor offering in-house project development, construction, and O&M services. Solar installations include rooftop, carports, and ground mount arrays, as well as energy storage. Pfister Energy has installed more than 600 MW of solar projects for schools, hospitals, corporations, governments, community solar farms, and electric utilities across the United States. In 2003, the company installed its first commercial solar project. Pfister Energy was recently ranked the #1 commercial solar contractor in New Jersey by Solar Power World. For more information, please visit www.pfisterenergy.com
About Schneider Electric
Schneider's purpose is to empower all to make the most of our energy and resources, bridging progress and sustainability for all. We call this Life Is On. Our mission is to be the digital partner for Sustainability and Efficiency. We drive digital transformation by integrating world-leading process and energy technologies, end-point to cloud connecting products, controls, software and services, across the entire lifecycle, enabling integrated management for homes, buildings, data centers, infrastructure and industries. Our 2,200-employee sustainability business has advised on over 14,000 MW of PPAs globally, including dozens of sites for New Jersey public sector clients. Schneider was recently ranked the #1 PPA Marketplace Solution provider based on our experience and our NEO Network and Zeigo platforms. For more information, please visit www.se.com
# # #