Greenskies & Vanguard Partner on Solar Project to Help Port Authority of NY & NJ Further Its Climate Goals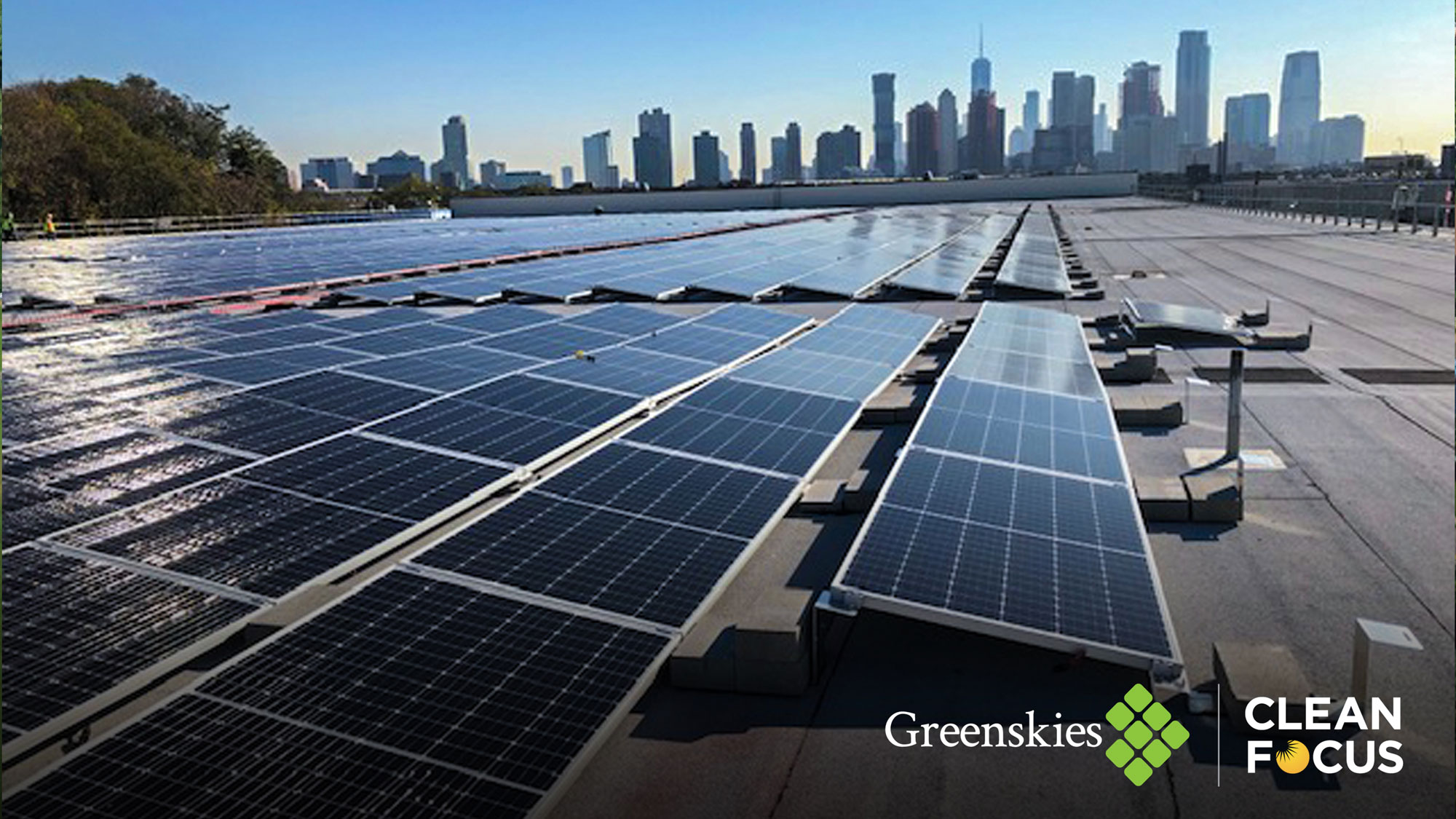 Solar Project Brings More Clean Renewable Energy to New Jersey Infrastructure
North Haven, CT (August 31, 2021) – Greenskies Clean Energy LLC ("Greenskies"), a national leader in commercial renewable energy development, and Vanguard Energy Partners ("Vanguard"), a national solar construction firm, have announced the completion of a 573-kilowatt (kW) solar energy system for the Port Authority of NY & NJ. The project will provide discounted clean, renewable solar electricity to the Port Authority Trans-Hudson's (PATH) MacMillan Bloedel Building and Train Control Center located at 100 Academy Street in Jersey City, New Jersey.
The Port Authority of NY & NJ, a 100-year-old world-class transportation infrastructure agency, is committed to reducing its greenhouse gas emissions through utilizing solar energy, as outlined in their embrace of the global Paris Climate Agreement. This on-site solar installation reduces carbon emissions and energy costs for the agency.
"Our partnership with Greenskies to install a solar energy system at the PATH Macmillan Bloedel Building and Train Control Center underscores the Port Authority's commitment to directly reduce greenhouse gas emissions through projects at our facilities," said Christine Weydig, director of the Port Authority's Office of Environmental and Energy Programs. "We thank Greenskies for their collaboration as we continue to lead the region towards a cleaner energy future."
The 573 kW solar energy system is expected to reduce greenhouse gas emissions (GHG) by nearly 11,925 metric tons over its 25-year service, or the equivalent of taking 2,400 cars off the road. (Source: US EPA Greenhouse Gas Calculator)
"Greenskies is pleased to help the Port Authority of NY & NJ reduce their carbon emissions and electricity costs with solar," said Stanley Chin, President and CEO of Greenskies. "Installing solar power is the easiest and most cost-effective action any organization can take to satisfy environmental goals. We look forward to a long relationship with Port Authority over the lifetime of the project."
The Port Authority of NY & NJ Procurement Department issued a Request for Proposals in October 2018. Greenskies partnered with Vanguard to bid, and after a competitive process, they were awarded the project. The installation consists of approximately 1,500 solar panels on top of the PATH MacMillan Bloedel Building situated on the upper roof of the southwest side of the building.
"Vanguard is pleased to be a part of this project in conjunction with Greenskies and the Port Authority of NY & NJ. This project is another great step for the Port Authority's clean energy initiative, as they continue to make energy-efficient improvements to their properties throughout New York and New Jersey," said Vanguard President, Benjamin Scott. "This project and future projects like it, will aid in reducing energy consumption and create a more sustainable environment. Vanguard looks forward to working with the Port Authority as we build a cleaner future for this generation and the next."
# # #

About Greenskies Clean Energy
Greenskies Clean Energy along with its sister company, Clean Focus, develop, finance, construct, own, and operate clean, renewable-energy projects in the United States. From beginning to end – origination through construction and then lifetime operation – customers work with a single delivery team. Greenskies offers integrated solar and battery-storage solutions to C&I, municipal, and utility customers, while Clean Focus provides capital and owns the systems. Both Clean Focus and Greenskies were founded in 2009, and they joined JLC Infrastructure as wholly-owned subsidiaries in 2019. Together Clean Focus and Greenskies have constructed and operate over 275 MW of C&I solar projects throughout the country. The combined company was Ranked #1 by Solar Power World in 2019 for cumulative commercial installations. For more information, please visit www.greenskies.com
About Vanguard Energy Partners
Vanguard Energy Partners, LLC is a national solar design-build firm that specializes in commercial, industrial and utility-scale projects. We engineer, procure, construct and maintain solar arrays throughout the United States. As an experienced renewable energy design-build firm, we are committed to building the highest producing solar array without sacrificing quality or safety. Vanguard delivers reliable solar arrays to our clients by striving to design and build the best solution for optimal production. Vanguard's proven expertise is built upon our team's extensive experiences in the renewable energy market sector. Combined, we have decades of construction, project management, and engineering experience in the industry. Some of Vanguard's most notable projects include the highest solar array in the world, one of the largest rooftop arrays in North America, the first commercial net zero electric facility in the United States and the largest array in New Jersey built by a public utility. At Vanguard, we are "Powering Today, Preserving Tomorrow". For more information, please visit www.vanguardenergypartners.com
About Port Authority
2021 marks the Port Authority of New York and New Jersey's Centennial Year. The bi-state agency builds, operates, and maintains many of the most important transportation and trade infrastructure assets in the country. Founded in 1921, the agency's network of aviation, ground, rail, and seaport facilities is among the busiest in the country, supports more than 550,000 regional jobs, and generates more than $23 billion in annual wages and $80 billion in annual economic activity. The Port Authority also owns and manages the 16-acre World Trade Center site, where the 1,776-foot-tall One World Trade Center is now the tallest skyscraper in the Western Hemisphere. The Port Authority receives no tax revenue from either the State of New York or New Jersey or from the City of New York. The agency raises the necessary funds for the improvement, construction or acquisition of its facilities primarily on its own credit. For more information or for updates from the Now Arriving blog, please visit http://www.pannynj.gov/blog