Greenskies Renewable Energy Named No. 1 in Total Commercial Solar Installations and Clean Focus Named No. 1 Owner of Commercial Solar in the United States by Solar Power World's 2019 Top Solar Contractors list.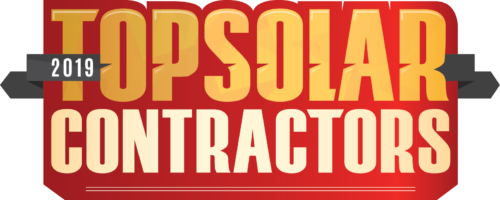 MIDDLETOWN, CONNECTICUT, August 8, 2019 - National solar developer Greenskies Renewable Energy ("Greenskies"), a Clean Focus company, has been recognized by Solar Power World magazine for its year-over-year growth among national solar contractors. Greenskies was ranked the No. 1 largest commercial solar developer based on cumulative megawatts installed on the magazine's 2019 Top Solar Contractors list. The solar projects developed by Greenskies are owned and operated by the Clean Focus group of companies. Clean Focus owns over 235 MW of solar projects, elevating Clean Focus to become ranked the No. 1 owner in cumulative development of commercial solar in the United States. Regionally, Solar Power World recognized Greenskies as a top 10 contractor in 8 states – Connecticut, Massachusetts, Maine, New Hampshire, New York, Colorado, Nevada and California.

"Greenskies, as part of Clean Focus group of companies, has grown to be an industry leader because we offer a unique value proposition for our clients," says Stanley Chin, President and CEO of Greenskies and Clean Focus group. "Beyond originating and developing each project, we also own and operate projects for the long-term. Greenskies clients work with a single contact from beginning to end across their entire solar portfolio. We do not 'flip' projects and disappear. This key differentiator helps build our sales pipeline as potential clients see us as a long-term partner that will deliver savings and ensure the solar portfolio operates at peak performance."
The Top Solar Contractors list is developed by Solar Power World to recognize the work completed by solar contractors across the United States. Produced annually, the Top Solar Contractors list celebrates the achievements of U.S. solar developers, subcontractors and installers within the utility, commercial and residential markets, and ranks contractors by kilowatts installed in the previous year.
"Solar Power World enjoys assembling the Top Solar Contractors list each year, and our 2019 edition features hundreds of companies making big impacts in local energy markets," said Kelly Pickerel, editor in chief of Solar Power World. "Solar power is becoming competitive with traditional electricity sources in more markets, and cities and states are demanding more renewable energy options. It's a great time to be a solar installer, and we're happy to highlight the best installation companies in the country on our list."
Since the company's start in 2008, the company has installed over 235 MW of solar. Greenskies has seen five straight years of year-over-year growth in the non-residential market. In 2018, Greenskies installed over 50 MW of solar power, a 22 percent increase over 2017, outpacing the overall market growth. The company saw a large uptick in commercial projects across the United States including community solar projects in Colorado, distribution warehouses in Nevada, and municipal projects in Connecticut. The U.S. solar market is forecast to continue to grow in 2019, with over 12 GW of new solar power expected to be added to the grid this year — enough to power 2.28 million average American homes. Greenskies is uniquely positioned to help its commercial clients make the switch to clean energy, being one of the few contractors which are completely vertically integrated. Greenskies operates over 385 solar projects across 19 states.
Looking ahead, Greenskies is expanding into battery storage and unique solar applications for commercial clients. As an example, Greenskies partnered with a Fortune 50 retailer to install over 1,500 solar-powered branded beacons across 49 states. This product allows retailers to illuminate designated parking areas to help customers efficiently pick up goods ordered online.
To see Solar Power World's Top Contractors rankings, visit https://www.solarpowerworldonline.com/2019-top-solar-contractors/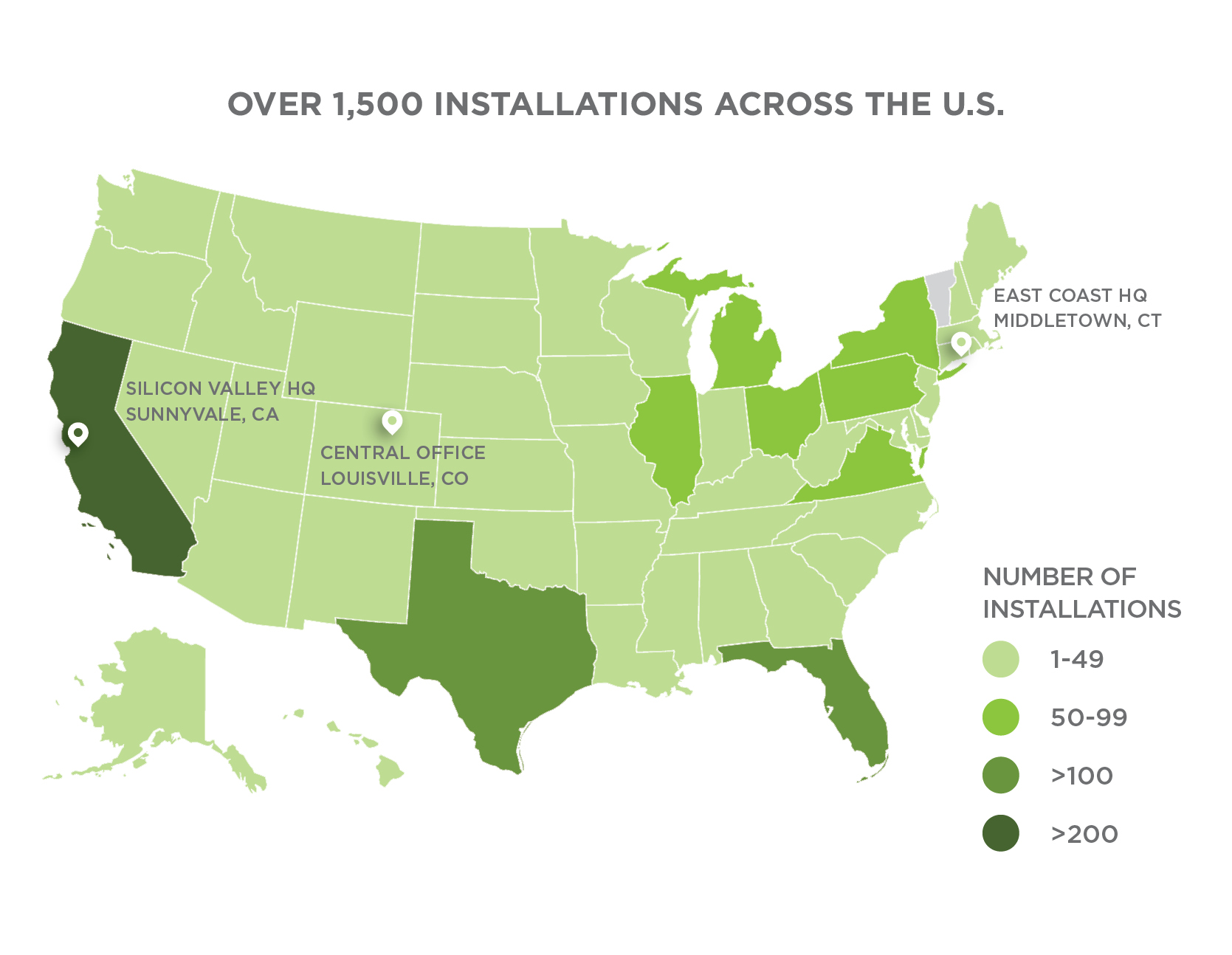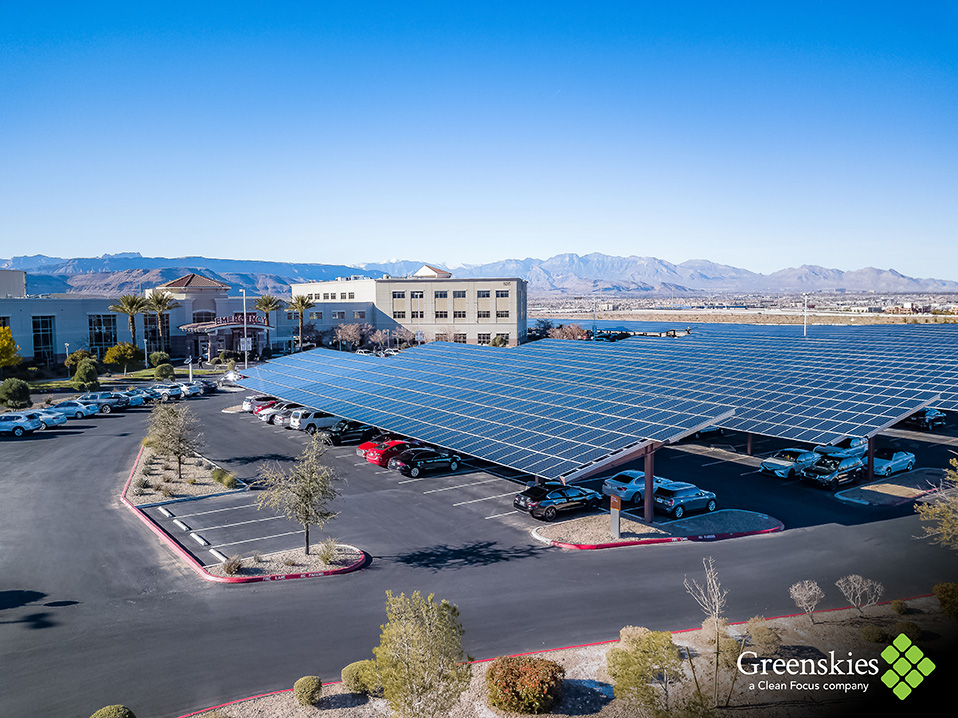 ---
About Solar Power World
Solar Power World is the leading online and print resource for news and information regarding solar installation, development and technology. Since 2011, SPW has helped U.S. solar contractors — including installers, developers and EPCs in all markets — grow their businesses and do their jobs better.
About Greenskies Renewable Energy
Greenskies Renewable Energy LLC, a Clean Focus company, develops, constructs, and maintains clean, renewable-energy projects in the United States. Greenskies ensures that its customized solar solutions operate at peak performance and deliver maximum savings to its clients.
About Clean Focus
The Clean Focus group of companies originates, develops, finances, constructs, owns, and operates renewable-energy projects. Clean Focus Yield owns and operates clean, renewable-energy projects in commercial, industrial, small-utility, and community solar. Our projects pass strict technical and credit criteria to ensure steady cash flows and attractive dividends for our investors.
Media Contacts
Greenskies Renewable Energy
Sinead Coleman
860-398-5408 ext. 318
sinead.coleman@cleanfocus.us
Solar Power World
Kelly Pickerel, editor in chief
216-860-5259
kpickerel@wtwhmedia.com