Greenskies Named #1 Commercial Solar Developer in the Northeast & Top 3 in the U.S.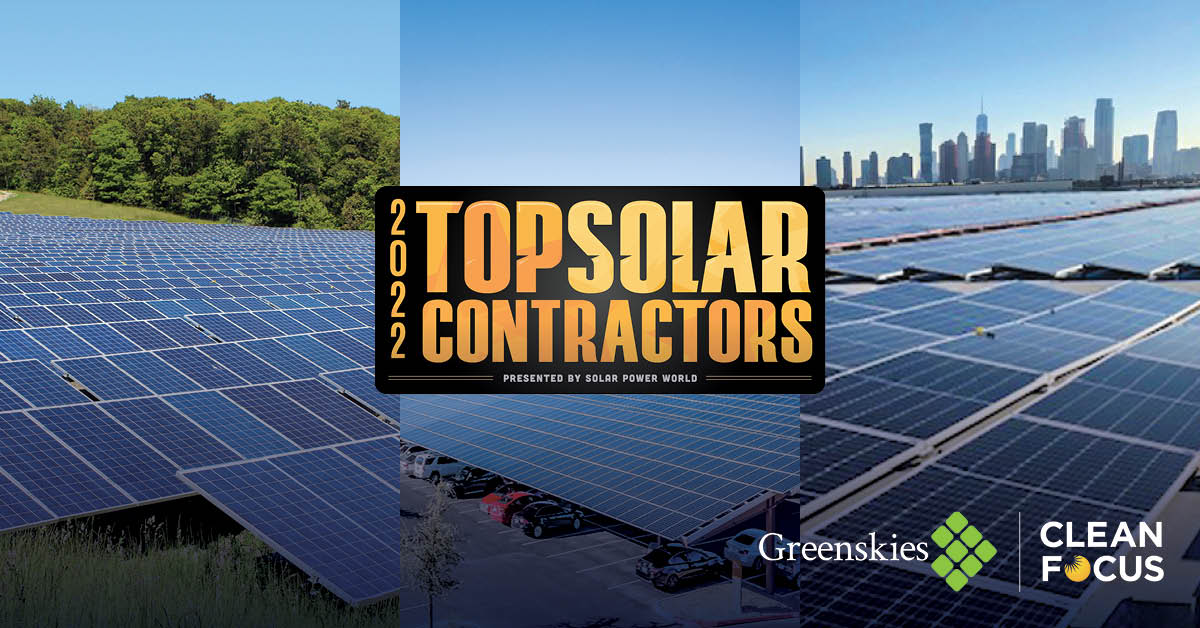 Solar Power World Ranked Greenskies a Top Solar Contractor for 2022
North Haven, CT (July 28, 2022) – Greenskies Clean Focus, a national leader in renewable energy solutions, today announced its ranking as the top commercial solar developer specializing in enterprise, public sector, and municipal projects in the Northeast by Solar Power World, the industry's leading source for solar PV installation, development, and technology news. Nationally, Greenskies placed in the top three commercial solar developers.
The Solar Power World 2022 Top Solar Contractors List is the most recognized annual listing of solar contractors in the U.S. working in the utility, commercial, and residential markets. Companies on the list are grouped and listed by specific service (developer, electrical subcontractor, EPC, installation subcontractor, installer, sales partner), market (commercial, residential, utility), and states by 2021 installed capacity (in kWDC).
"We are honored to be recognized by Solar Power World for our efforts to accelerate the transition to clean energy," said Stanley Chin, President and CEO of Greenskies Clean Focus. "Our team's customer-centric approach allows us to rapidly deploy solar and other clean energy technologies on- and off-site, providing immediate tangible impact in the form of reduced greenhouse gas emissions and lower electricity costs."
Despite the challenging industry conditions of late, including concerns over supply chain interruptions and tariff investigations, Greenskies continues its growth in the C&I (commercial and industrial) marketplace. Since its founding in 2009, Greenskies has installed more than 279 MW of solar at 538 sites across 19 states – making Greenskies the largest commercial solar developer in the U.S. based on cumulative kilowatts installed excluding community solar.
"It's easy to worry about the current state of the industry, especially with legislation battles and supply concerns featured in the news every day," said Kelly Pickerel, editor in chief of Solar Power World. "That's why we like to take a moment every year to reflect on the accomplishments of many solar companies throughout the country. We're very proud to recognize over 400 companies on this year's Top Solar Contractors List that are still finding ways to come out on top."
About Greenskies Clean Energy
Greenskies Clean Focus offers a full suite of renewable energy solutions to commercial, public sector, and utility energy users throughout the US. Our vertical integration delivers the most cost-competitive solar, battery storage, and low carbon solutions. From beginning to end, our customers work with a single delivery team. Greenskies originates, develops, constructs, and operates, while Clean Focus finances and owns the systems. For more information, please visit www.greenskies.com
About Solar Power World
Solar Power World is the leading online and print resource for news and information regarding solar installation, development and technology. Since 2011, SPW has helped U.S. solar contractors — including installers, developers and EPCs in all markets — grow their businesses and do their jobs better. For more information, please visit: www.solarpowerworld.com
# # #