Greenskies Named to Marcum Tech Top 40 List
Press Release | Wallingford, CT
September 23, 2016
Greenskies Renewable Energy was honored Thursday for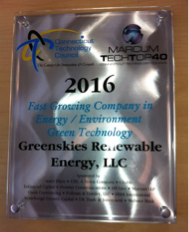 its inclusion on the 2016 Marcum Tech Top 40, a list of the 40 fastest-growing technology companies in Connecticut.
The Marcum Tech Top 40 competition is conducted by the Connecticut Technology Council, a statewide association of technology oriented companies and institutions, and sponsored by Marcum LLP, one of the nation's largest independent public accounting and advisory services firms.
The competition is based on a 4-year review of a company's revenues, comparing first-year revenue with the fourth year to determine the firm's percentage of revenue growth over the period. Eligible companies must have first-year revenue of at least $50,000 and minimum fourth-year revenue of $3 million. They must also be headquartered in Connecticut and possess proprietary technology.
The 9th annual Marcum Tech Top 40 awards ceremony was held Thursday at the Toyota Oakdale Theatre.
Greenskies was one of four Connecticut companies to have made the list in the Energy and Environmental Technologies sector, one of six technology sectors included in the contest.
"The companies being honored this year exemplify the entrepreneurial spirit that has enabled them to thrive under extremely difficult market conditions," said Anthony P. Scillia, partner-in-charge of Marcum's New England Region. "Marcum is proud to partner with the Connecticut Technology Council once again on this outstanding program."
Added Michael Brooder, partner-in-charge of Marcum's Hartford office: "The Marcum Tech Top 40 companies and winners are role models for other companies facing any number of obstacles, including capital-raising, complex revenue reporting, intellectual property management, international expansion and other challenges. The Marcum Tech Top 40 Class of 2016 are best-in-class by all of these measures."
Greenskies was the Number One-ranked solar developer in the commercial/industrial niche according to a recent U.S. PV (photovoltaic) Leaderboard, compiled by GTM Research, the solar industry's leading research firm and data tracker. It was also ranked as the nation's Number One solar developer among commercial contractors on Solar Power World's 2016 Top 500 Solar Contractors list. Solar Power World is the solar industry's leading business-to-business publication.
The Connecticut-based company designs, builds and maintains solar photovoltaic systems for commercial and industrial clients, municipalities and government agencies, educational institutions and utilities throughout the United States.