Greenskies Installs Solar to Power Wesleyan University's New Film Studies Center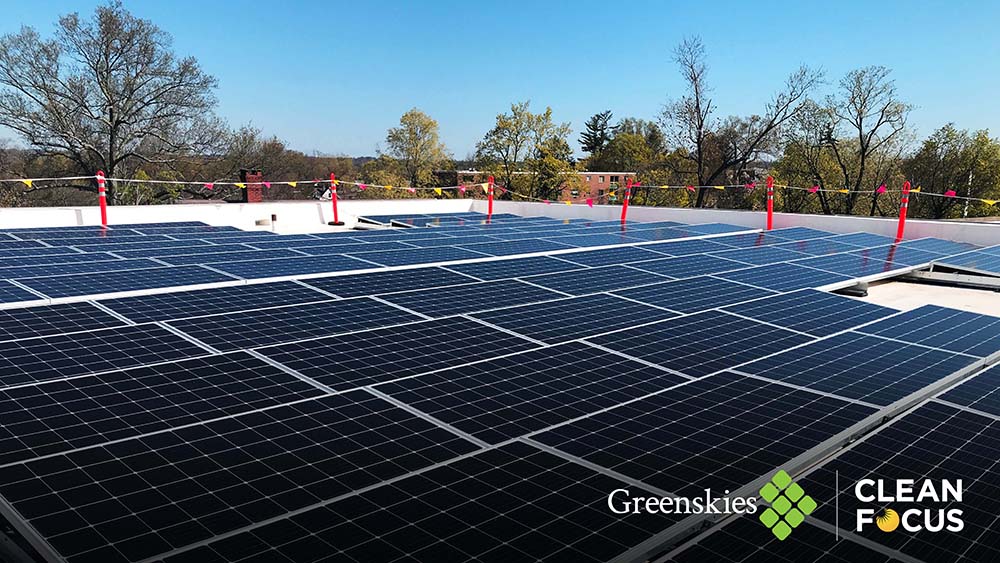 Rooftop Solar Project Expands Renewable Energy Use on Wesleyan Campus
North Haven, CT (October 12, 2021) – Wesleyan University recently expanded its access to on-site renewable energy when Greenskies Clean Energy LLC ("Greenskies"), Connecticut's largest commercial solar developer, energized a 96-kilowatt rooftop solar array at the Center for Film Studies.
"Wesleyan's new Film Studies Center is state of the art in all ways, including its solar usage," said Steven Scarpa, manager of media and public relations for Wesleyan. "The solar installation allows us to have the power needed for our student film projects and screening series while honoring our strong desire to reduce our carbon footprint and use renewable energy sources."
Annually, the 250 plus panels on the Film Studies building will generate around 100,000 kilowatt-hours (kWh) of clean energy. Over the next twenty years, that energy will offset approximately 1,500 metric tons of carbon dioxide (CO2), or the equivalent of taking about 330 cars off the road. (Source: US EPA Greenhouse Gas Calculator)
"Greenskies is thrilled to further our longstanding relationship with Wesleyan University by installing additional on-campus renewable energy," said Stanley Chin, President and CEO of Greenskies. "This new solar array will help move the University closer to its long-term sustainability goals and reduce energy costs." In 2016, Greenskies installed a 1 MW ground-mounted solar array on the Wesleyan campus, which supplies power directly to the university's existing microgrid.
Wesleyan and Greenskies entered into a power-purchase agreement (PPA) for this project. Greenskies will design, develop, finance, own, operate, and maintain the facility at no cost to the university as part of the arrangement. In turn, Wesleyan agrees to purchase 100 percent of the electricity produced by the solar system at a significantly discounted rate.
# # #
About Greenskies Clean Energy
Greenskies Clean Energy along with its sister company, Clean Focus, develop, finance, construct, own, and operate clean, renewable-energy projects in the United States. From beginning to end – origination through construction and then lifetime operation – customers work with a single delivery team. Greenskies offers integrated solar and battery-storage solutions to C&I, municipal, and utility customers, while Clean Focus provides capital and owns the systems. Both Clean Focus and Greenskies were founded in 2009, and they joined JLC Infrastructure as wholly-owned subsidiaries in 2019. Together Clean Focus and Greenskies have constructed and operate over 275 MW of C&I solar projects throughout the country. For more information, please visit www.greenskies.com