Greenskies Helps Lafayette College Harness Solar to Advance Sustainability Goals and Expand Educational Opportunities
Lafayette College Hosts 472 kW Solar Array on Kirby Sports Center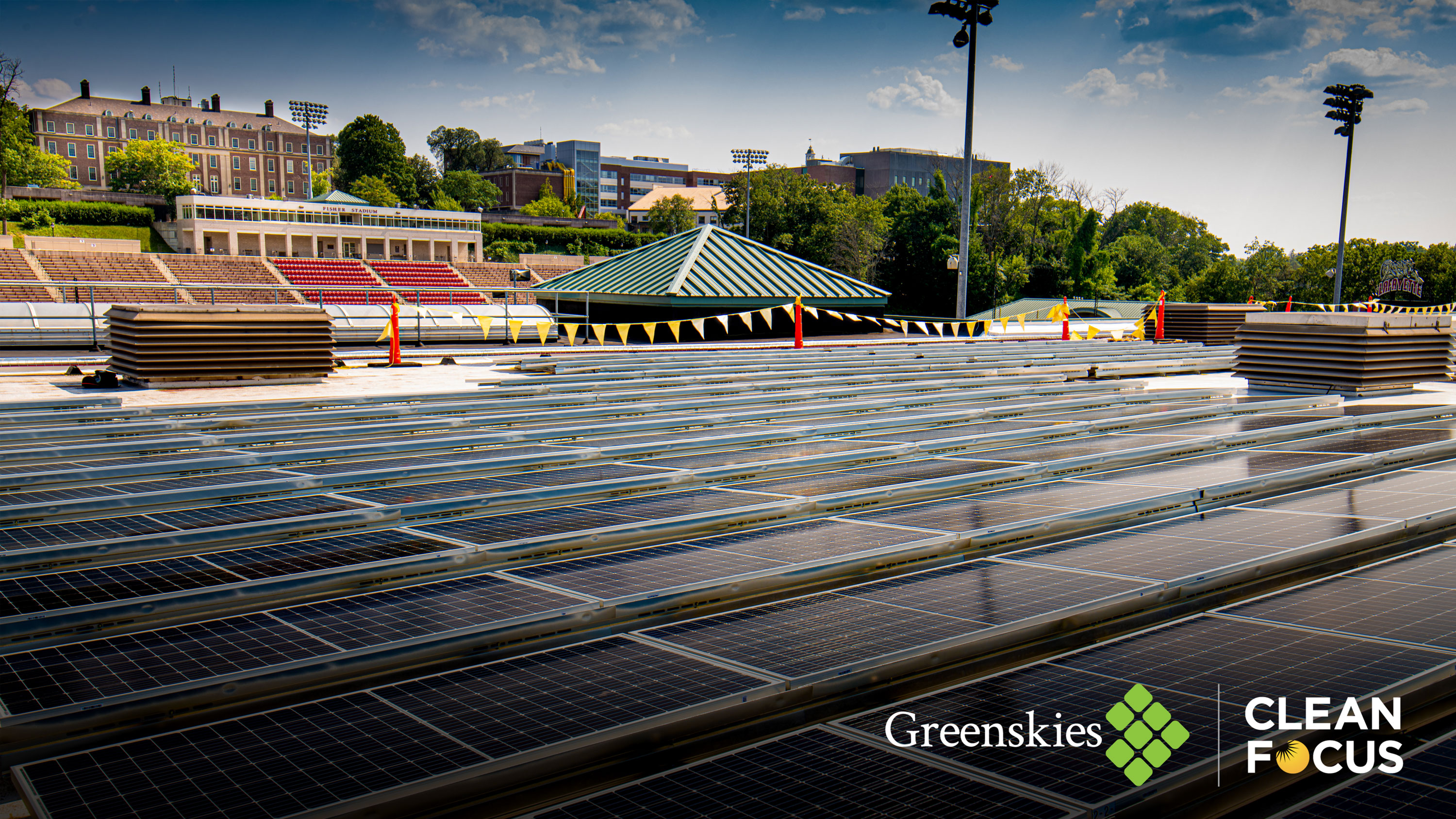 North Haven, CT (April 26, 2022) – Greenskies Clean Focus, a national leader in renewable energy solutions, recently energized 472 kilowatts of rooftop solar at Lafayette College in Easton, Pennsylvania. The solar system, located on the roof of the Kirby Sports Center, demonstrates Lafayette's commitment to sustainable action while also providing students, faculty, and staff research and learning opportunities.
The 1,226 panels on the Kirby Sports Center will generate around 545 megawatt-hours (MWh) of clean, renewable energy every year. Over the next twenty-five years, that energy will offset 9,675 metric tons of carbon dioxide (CO2), the equivalent of taking 2,085 gas-powered cars off the road or preserving 11,450 acres of forest. (Source: US EPA Greenhouse Gas Calculator)
Installing solar on campus is a meaningful step toward the College's goal to reach carbon neutrality by 2035. In addition, this onsite solar installation provides experiential learning opportunities by offering a real-world example of solar.
"This project is intended to visually articulate to the Lafayette community and visitors the College's commitment to achieve carbon neutrality and use the campus as a living laboratory," says Delicia Nahman, Director of Sustainability.
Greenskies partnered with Pfister Energy, a top commercial solar developer and EPC based in Hawthorne, New Jersey, to install this project. Greenskies funded the construction at no upfront cost and will provide ongoing management and maintenance to the site. In addition, the companies are offering Lafayette students internship opportunities for a five-year duration.
"Greenskies is excited to be part of this collaboration with Lafayette College and Pfister Energy that offers a cost-effective solution to bring locally generated clean electricity to the college," said Stanley Chin, President and CEO of Greenskies. "Working with Lafayette to advance their sustainability initiatives is particularly rewarding, knowing that the project could serve as inspiration to their bright student body for years to come."
"Lafayette College has shown its commitment to sustainability through its curriculum, operations, and culture," added Sean Quin, Vice President of Strategy and Business Development at Pfister. "This commitment is on display with their new rooftop solar array at the Kirby Sports Center. Pfister Energy is proud to partner with Lafayette College on this solar project and help continue to put their sustainability plans into action."
About Greenskies Clean Energy
Greenskies Clean Focus offers a full suite of renewable energy solutions to commercial, public sector, and utility energy users throughout the US. Our vertical integration delivers the most cost-competitive solar, battery storage, and low carbon solutions. From beginning to end, our customers work with a single delivery team. Greenskies originates, develops, constructs, and operates, while Clean Focus finances and owns the systems. For more information, please visit www.greenskies.com
About Lafayette College
Founded in 1826 in Easton, Pa., Lafayette College is a tradition-rich liberal arts college that offers undergraduate programs on a coeducational, residential campus rich in history and beauty. Lafayette is home to a close-knit population of approximately 2,600 students who are academically competitive and diverse in culture and perspective. Lafayette offers a bachelor of arts in 37 fields and a bachelor of science in 14 fields, including five in engineering, with a focus on fostering a campus culture that values diversity and inclusion, sustainability, and community engagement. A member of the Patriot League, Lafayette has a storied 23-sport Division I athletics program. For more information, please visit www.lafayette.edu/
About Pfister Energy
Pfister Energy, a leading turnkey commercial, industrial, and utility-scale solar energy company and EPC contractor offering in-house project development, construction, and O&M services. Solar installations include rooftop, carports, and ground mount arrays, as well as energy storage. Pfister Energy has installed more than 500 MW of solar and large-scale solar projects for schools, hospitals, corporations, governments, community solar farms, and electric utilities across the United States. In 2003, the company installed its first commercial solar-integrated roofing system. Pfister Energy was recently ranked the #1 commercial solar contractor in New Jersey by Solar Power World. For more information, please visit www.pfisterenergy.com
# # #