Greenskies Grows Its Solar Portfolio For Water Treatment Plants In Connecticut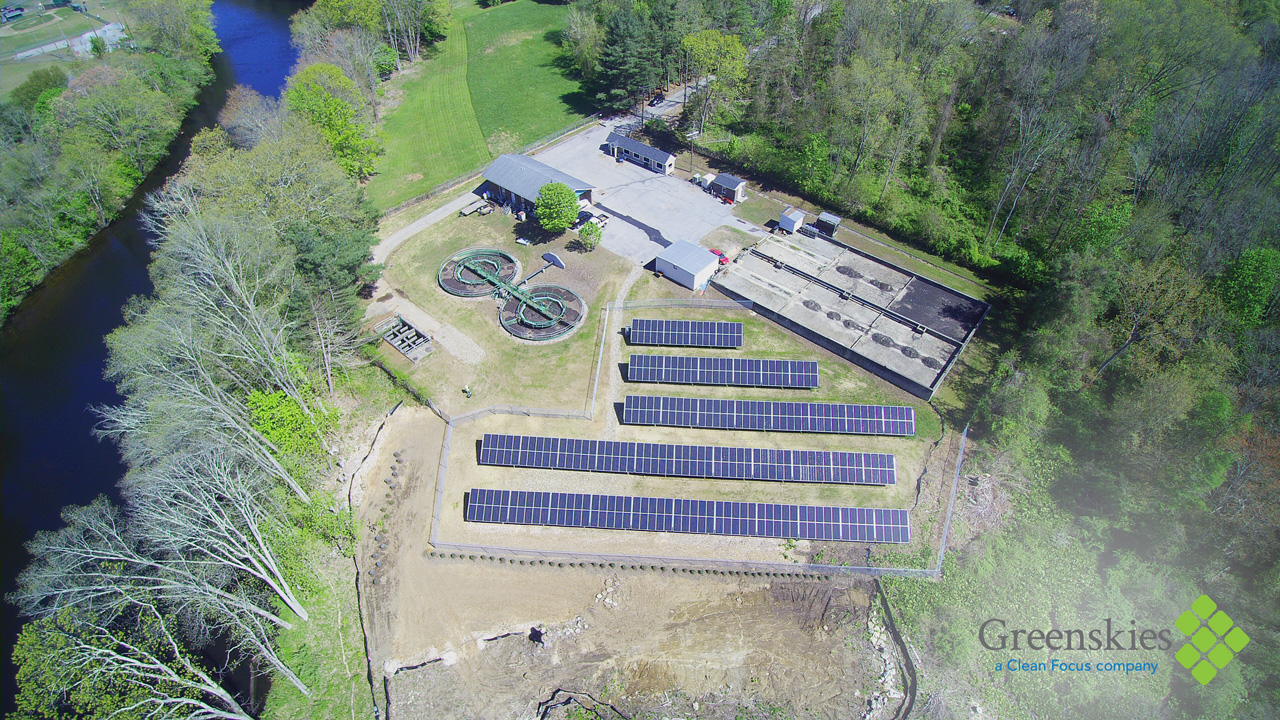 Press Release | Middletown, CT
May 22, 2019
Greenskies Renewable Energy LLC ("Greenskies"), a Clean Focus company, completed a 137 kW solar array in Sprague, Connecticut, which will generate solar electricity for the Sprague wastewater treatment plant. Located on property adjacent to the Sprague municipal water treatment plant, the solar project will provide 80% of the power needed at the plant.
"Solar projects at municipal water treatment plants help local governments such as Sprague meet their sustainability and cost reduction goals," said Catherine A. Osten, First Selectman of the Town of Sprague. "I am excited that this project is complete and Greenskies has been a great partner in this project."
Wastewater treatment plants can be the largest electricity consumers in a municipality, with electricity comprising as much as 40 percent of the total operating costs for wastewater plants. According to the U.S. EPA (source link), as much as 4 percent of all energy use in the United States goes to public drinking water and wastewater services. Greenskies has expanded its municipal solar portfolio into one of the largest in the Northeast. As trusted partner for many Connecticut municipal solar projects, Greenskies currently operates solar installations for more than one-third of all the towns in Connecticut. In addition to the Sprague project, Greenskies also completed solar projects for the City of Middletown and Town of Ledyard wastewater treatment plants.
Greenskies Renewable Energy will own, operate, and maintain the solar array under a twenty-year power purchase agreement. "We are pleased to help municipalities reduce electricity costs to meet budget goals and serve their constituents," said Stanley Chin, President and CEO of Greenskies and Clean Focus Group. "We look forward to a long relationship with the Town of Sprague over the lifetime of the project. We will provide the plant with leading-edge technology and service to help the project operate at peak performance and deliver maximum savings."
Greenskies designed and installed a fixed tilt ground mounted system with 378 Neo Solar Power photovoltaic (PV) panels. The lifetime output from the solar project is expected to offset 3.3 million pounds of CO2 or the equivalent of 323 cars off the street. The emissions avoided through this installation alone are equivalent to 3.7 million miles driven by an average gas-powered passenger car (U.S. EPA source link).
For more information on Greenskies' municipal solar solutions, visit our Municipal & Schools.