Greenskies & CVEC Power Cape Cod's Cranberry Valley Golf Course with Solar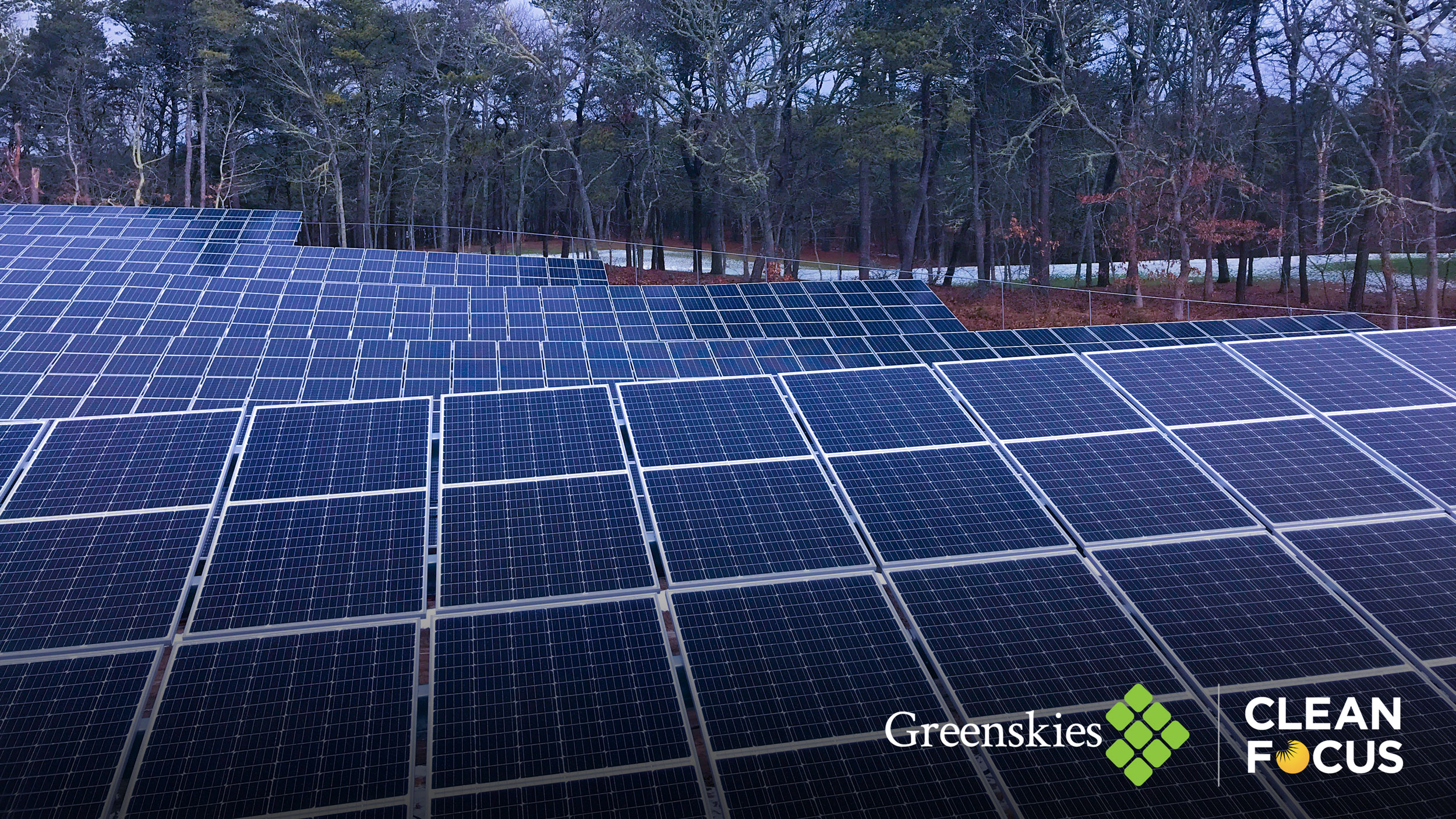 New Solar Array Powers Operations - Offsets 100% of Onsite Energy Consumption
North Haven, CT (December 16, 2021) – Greenskies Clean Focus, in partnership with Cape and Vineyard Electric Cooperative (CVEC), has completed the installation of a dual located rooftop and ground-mounted solar array totaling 273.7 kW at the Cranberry Valley Golf Course in Harwich, Massachusetts. Over its lifetime, this solar array will offset approximately 5,060 metric tons of carbon dioxide (CO2), or the equivalent of taking nearly 1,100 cars off the road. (Source: US EPA Greenhouse Gas Calculator)
Annually, the 720 plus solar panels on the golf cart barn and adjacent grounds will generate more than 350,000 kilowatt-hours (kWh) of clean energy. The array will supply 100% of the onsite electrical load of the Cranberry Valley Golf Course, eliminating its greenhouse gas emissions. In addition, Greenskies incorporated an upgraded panelboard at the golf cart barn to facilitate solar cart charging.
Of the project, Maria Marasco, Esq., CVEC's Executive Director, said, "We are very pleased that another of CVEC's member communities is realizing the benefits of renewable energy. As a result, the Town is realizing savings on energy costs and reaping the benefits of utilizing solar energy." Harwich, Mass., is one of CVEC's 25 municipal members across Cape Cod and the Islands.
"Greenskies is delighted to help CVEC add more clean, renewable energy to the Town of Harwich," said Stanley Chin, President and CEO of Connecticut-based Greenskies Clean Energy. "The Cranberry Valley Golf Course facility will address the growing clean energy needs of the community and deliver significant savings to the CVEC cooperative. We look forward to continuing our long-standing relationship with CVEC over the lifetime of our projects together." Greenskies developed, constructed, and will operate and maintain the system while our affiliate company, Clean Focus, provided financing and will own the system.
The Greenskies Clean Focus team has extensive experience collaborating with CVEC. Together, they have completed more than 22 MW of solar installations across ten sites on Cape Cod and Martha's Vineyard. Another solar system underway at Oak Bluffs Elementary School on the Vineyard will bring the total to eleven.
About Greenskies Clean Energy
Greenskies Clean Focus offers a full suite of renewable energy solutions to commercial, public sector, and utility energy users throughout the US. Our vertical integration delivers the most cost-competitive solar, battery storage, and low carbon solutions. From beginning to end, our customers work with a single delivery team. Greenskies originates, develops, constructs, and operates, while Clean Focus finances and owns the systems. For more information, please visit www.greenskies.com
# # #