Greenskies Clean Focus Honored with Connecticut Green Bank Award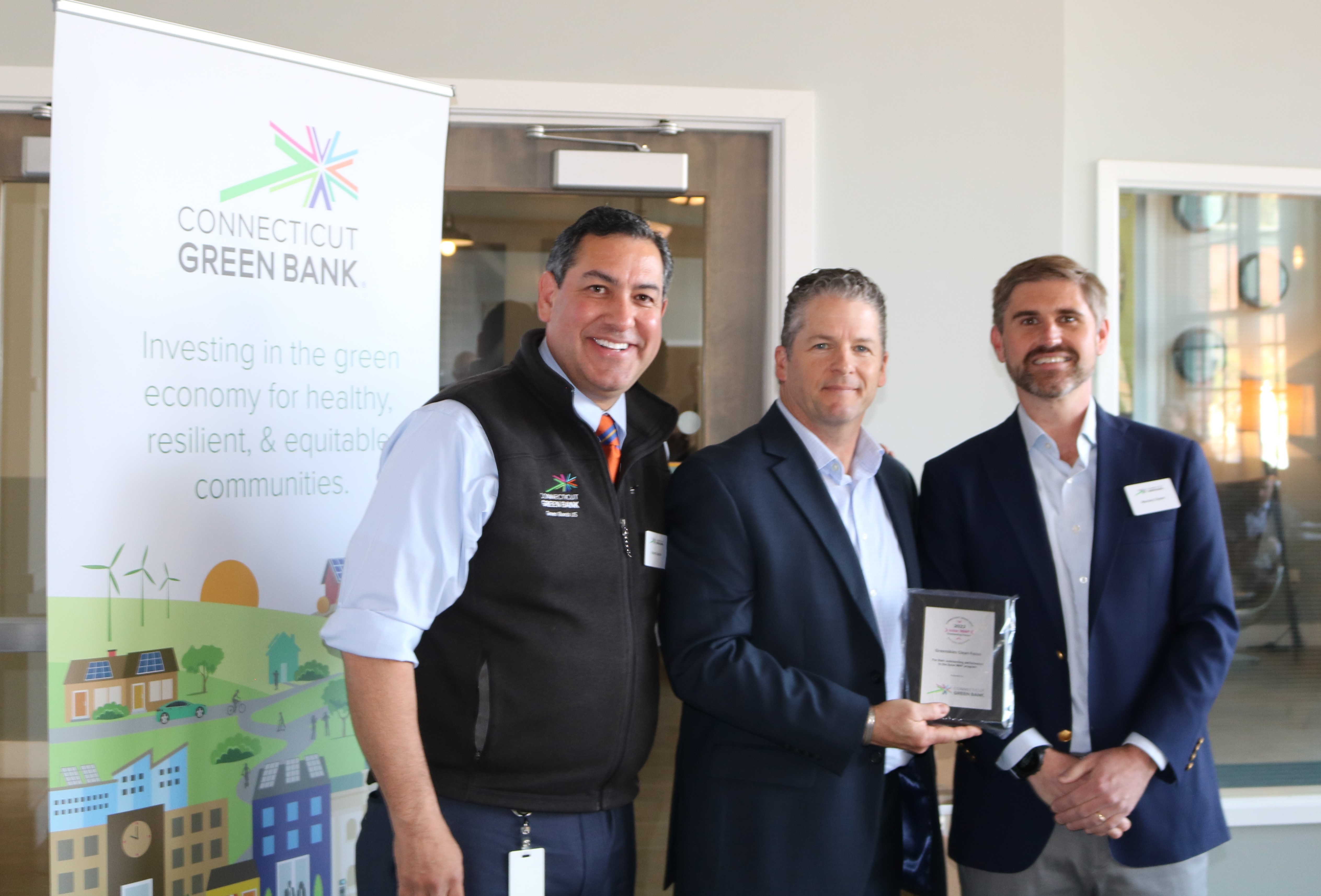 Green Bank Awards Greenskies 2022 Outstanding Partner for Solar MAP
North Haven, CT (April 25, 2023) – Greenskies Clean Focus, a national leader in renewable energy solutions, today announced that Connecticut Green Bank selected them as a recipient of a 2022 Green Bank Award for outstanding performance in the Solar MAP program.
"Greenskies is honored to receive the 2022 Outstanding Partner for Solar MAP award," said Stanley Chin, President and CEO of Greenskies Clean Focus. "We're proud to partner with Connecticut Green Bank to help bring clean, renewable energy to more towns and cities across the state."
The Green Bank created these awards to acknowledge its partners advancing the green energy movement and helping bring resilience, health, and equity to Connecticut. The Green Bank is hosting an Awards Ceremony and Breakfast on Wednesday, April 26, 2023, to recognize and honor impactful partnerships and shared accomplishments in 2022.
"We are proud to recognize Greenskies as a key partner in this program that helps reduce the challenges of going solar for municipalities seeking to save energy and money," said Mackey Dykes, Vice President of Financing Programs at the Green Bank.
Greenskies is the installation partner for the inaugural round of municipalities participating in the Solar Marketplace Assistance Program (MAP) for Towns & Cities. Green Bank selected Greenskies as part of a competitive bid process to install 11 projects in Branford, Manchester, Mansfield, and Portland, totaling 2.8 MW. Using the Green Bank's Solar PPA, the electricity produced by these projects will reduce costs for each municipality. Greenskies was a key driver in completing these projects despite lingering COVID related supply chain impacts on equipment and timelines across the solar industry.
About Greenskies Clean Focus
Greenskies Clean Focus offers a full suite of decarbonization solutions, including onsite and offsite solar, battery storage, microgrids, and CCHP. Our vertical integration delivers the most cost-competitive solutions for commercial, public sector, and utility energy users throughout the US. From beginning to end, our customers work with a single delivery team. Greenskies originates, develops, constructs, and operates, while Clean Focus finances and owns the systems. Since our founding in 2009, we have constructed and operate 310 MW of renewable energy facilities across 578 sites in 19 states. Solar Power World ranks Greenskies Clean Focus as the number one commercial solar developer in the Northeast and top three in the US, based on cumulative kW installed. For more information, please visit www.greenskies.com
About the Connecticut Green Bank
The Connecticut Green Bank was established by the Connecticut General Assembly in 2011 as the nation's first green bank and has since supported the creation of more than 26,000 green jobs in the state, while reducing the energy cost burden on over 66,000 families, businesses, and nonprofits. The Green Bank's vision is a planet protected by the love of humanity and its mission is to confront climate change by increasing and accelerating investment into Connecticut's green economy to create more resilient, healthier, and equitable communities. This is accomplished by leveraging limited public resources to scale-up and mobilize private capital investment into Connecticut. In 2017, the Connecticut Green Bank received the Innovations in American Government Award from the Harvard Kennedy School Ash Center for Democratic Governance and innovation for their "Sparking the Green Bank Movement" entry. To date, the Green Bank has mobilized nearly $2.5 billion into the State's green economy. This has reduced the energy costs for thousands of families and businesses, and reduced greenhouse gas emissions that cause climate change and worsen public health. Learn more at www.ctgreenbank.com
# # #