Greenskies Energizes 645 kW of Solar for Town of Glastonbury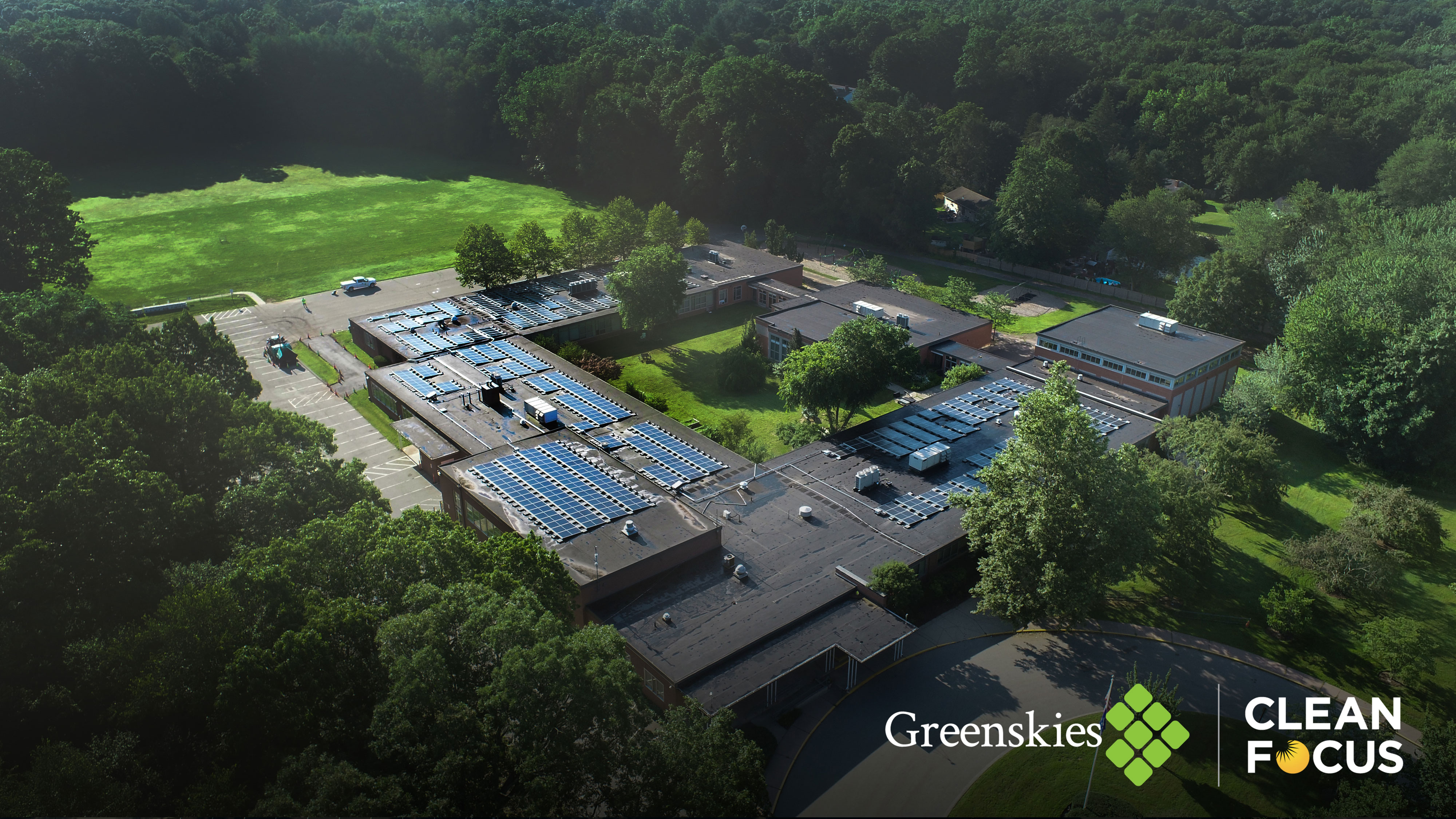 Town of Glastonbury to Save $967,000 in Energy Costs
North Haven, CT (August 3, 2021) – The Town of Glastonbury recently added another 645 kW of renewable energy when Greenskies Clean Energy LLC ("Greenskies"), the largest commercial-scale solar developer in Connecticut, energized four solar arrays at municipal buildings throughout town.
Greenskies installed solar panels on rooftops at three schools, Buttonball Lane (201 kW), Hopewell (239 kW), and Naubuc (92 kW) Elementary Schools, as well as the Town Hall (113 kW). In total, the panels will generate more than 765,500 kWh of clean energy annually.
Greenskies was selected to install, operate, and maintain the solar arrays as the result of a competitive RFP bid process conducted by the Town. By using a solar power purchase agreement, the installations were completed at no upfront cost to the Town, which will also benefit from reduced electricity rates.
These four projects alone are expected to save the Town an additional $967,000 in energy costs over the next 20 years. Richard J. Johnson, Glastonbury Town Manager said, "Glastonbury has long embraced alternative energy solutions for cost savings and operational benefits. Transitioning to solar has proven to be a cost-effective approach, and it is consistent with the Town's longstanding and ongoing commitment to sustainable practices and operations. This recent project is one of many Town efforts to reduce energy costs and implement environmentally-friendly infrastructure at Town-owned facilities."
Over the term, these projects will offset nearly 11,000 metric tons of carbon dioxide (CO2), or the equivalent of taking 2,300 cars off the road. (Source: US EPA Greenhouse Gas Calculator)
Greenskies is also installing a solar canopy carport at the Police Department. These raised structures will generate clean energy and provide shade and protection from the weather to visitors and employees alike.
"Greenskies is proud to help the Town of Glastonbury implement solar at more properties and realize greater cost savings on their energy use. These savings will no doubt translate into more funds for other important programs and services," said Stanley Chin, President and CEO of Greenskies. "We look forward to continuing our relationship with the Town of Glastonbury for many years to come."
###
About Greenskies Clean Energy
Greenskies Clean Energy along with its sister company, Clean Focus, develop, finance, construct, own, and operate clean, renewable-energy projects in the United States. From beginning to end – origination through construction and then lifetime operation – customers work with a single delivery team. Greenskies offers integrated solar and battery-storage solutions to C&I, municipal, and utility customers, while Clean Focus provides capital and owns the systems. Both Clean Focus and Greenskies were founded in 2009, and they joined JLC Infrastructure as wholly-owned subsidiaries in 2019. Together Clean Focus and Greenskies have constructed and operate over 275 MW of C&I solar projects throughout the country. For more information, please visit www.greenskies.com