Greenskies Clean Focus & Vanguard Energy Partners Complete 313 kW Solar Array for Raritan Valley Community College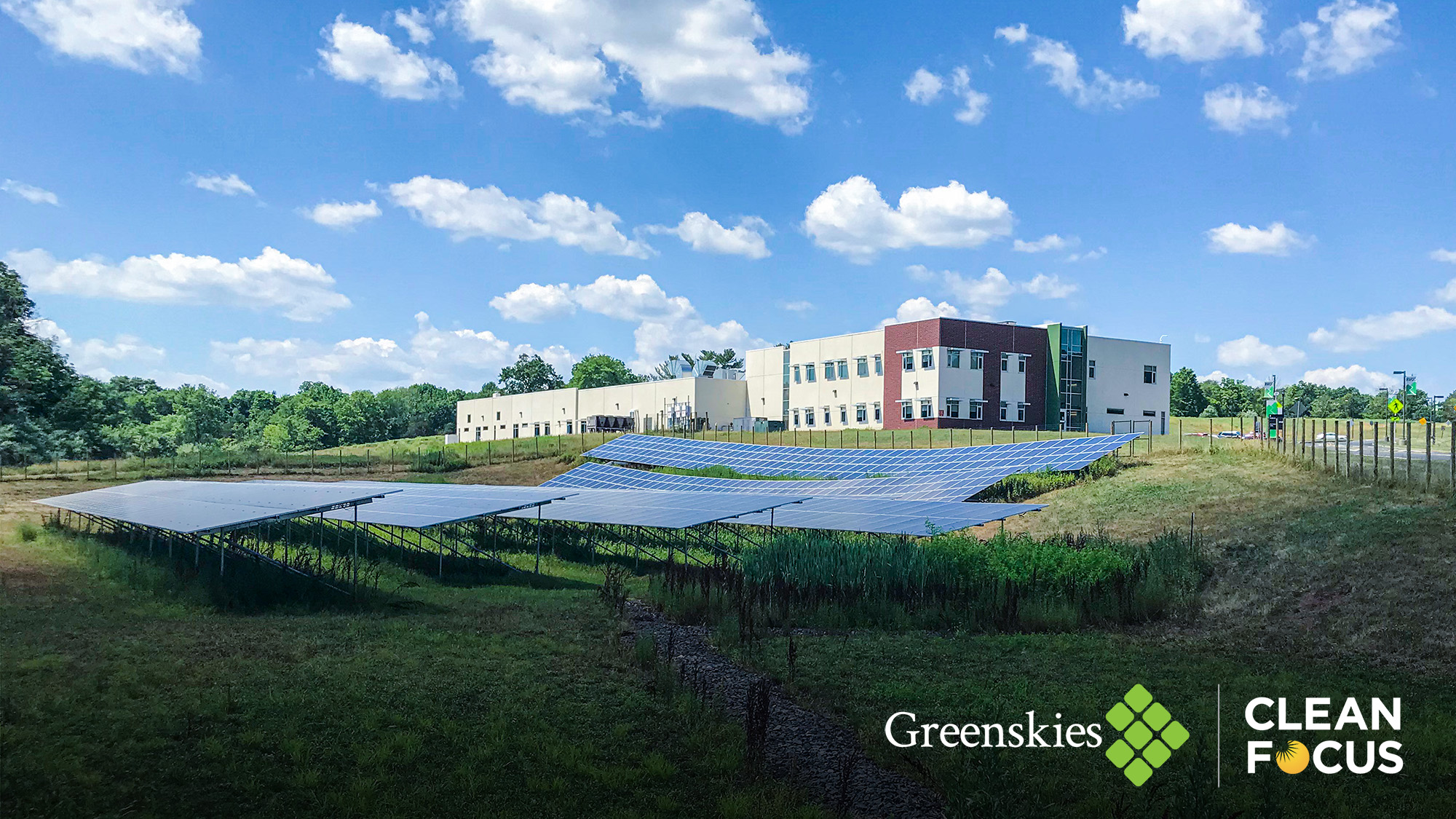 RVCC Workforce Training Center Now Fully Powered by On-Campus Solar Energy System
North Haven, CT (August 9, 2022) – Greenskies Clean Focus, a national leader in renewable energy solutions, recently energized a new 313.6 kilowatt (kW) ground-mounted solar installation for Raritan Valley Community College (RVCC) of North Branch, New Jersey. Greenskies partnered with Vanguard Energy Partners, a national solar construction firm, to construct a solar array on land adjacent to the RVCC Workforce Training Center (WTC).
RVCC signed a power purchase agreement (PPA) with Greenskies to purchase the power generated by the array at a low, fixed rate for the next fifteen years. As a result, the two-story, 44,000 square-foot WTC is now fully powered by 725 bifacial modules, producing up to 386 Megawatt hours (MWh) per year of clean, renewable energy. In addition to powering the WTC, the system is configured for remote net metering, allowing it to power other buildings on the RVCC campus.
"This project received the first remote net metering approval in New Jersey. The College wanted to install a solar array to provide its students with practical hands-on learning experience. However, the installation site was at a new facility with low electricity usage," said Pete Osowski, VP Technical Business Development. "A big thank you goes out to Shannon Donnelly, our director of regulatory affairs, for navigating the application. Thanks to her knowledge of remote net metering and her attention to the complexities of the application process, RVCC was approved to remotely net meter the solar array to another building on its campus. In addition to helping offset the RVCC electricity bill, this array also helps with local workforce development by educating the next generation in renewable energy."
Over the term, that energy will offset 4,110 metric tons of carbon dioxide (CO2), the equivalent of taking more than 883 gas-powered cars off the road or preserving 4,860 acres of forest. (Source: US EPA Greenhouse Gas Calculator)
"This project is a win for the College and the environment," said Stanley Chin, President and CEO of Greenskies. "Our colleges shouldn't have to decide between rising electricity prices, expanding educational opportunities to their students, or making good on sustainability commitments. All three are important for the future of our communities."
The RVCC campus now houses three solar arrays, in addition to other eco-conscious efforts like publicly available electric car charging stations, two green roofs and a green wall, numerous pollinator gardens, a rain garden, three rainwater harvesting systems, and four LEED Certified buildings. The College also produces a significant part of its electrical needs via a gas-powered 1.4 Megawatt combined heat and power plant.
The RVCC Workforce Training Center is the latest building on campus to achieve LEED Certification. As a renewable energy source, this solar array helped the RVCC WTC achieve a perfect score in the Energy and Atmosphere category for green power. The College is nationally recognized, year after year, for its sustainability initiatives.
"RVCC is committed to preserving the environment through ongoing sustainability programs," said John Trojan, VP Finance and Facilities. "There was no capital outlay or operating expenses for the College. Vanguard built, Greenskies will operate and maintain the array, and RVCC will pay for the electricity at a contractually-defined, predictable rate."
LEED (Leadership in Energy and Environmental Design), developed by the U.S. Green Building Council (USGBC), is the most widely used green building rating system in the world and an international symbol of excellence. In the United States alone, buildings account for almost 40 percent of national CO2 emissions and out-consume both the industrial and transportation sectors, but LEED-certified buildings have 34 percent lower CO2 emissions.
About Greenskies Clean Energy
Greenskies Clean Focus offers a full suite of renewable energy solutions to commercial, public sector, and utility energy users throughout the US. Our vertical integration delivers the most cost-competitive solar, battery storage, and low carbon solutions. From beginning to end, our customers work with a single delivery team. Greenskies originates, develops, constructs, and operates, while Clean Focus finances and owns the systems. For more information, please visit www.greenskies.com
About Vanguard Energy Partners
Vanguard, a Minority-Owned Business (MBE), is a nationally recognized solar EPC specializing in commercial, industrial and utility-scale projects. Vanguard Energy Partners, LLC is part of the Ferreira Family of Companies. Our companies are united by a shared vision of building a diverse and inclusive work environment, delivering the highest quality of work to our clients, and making an impact through our hard work and dedication. Our core values of safety, integrity, teamwork, innovation, and execution are at the center of all our operations. We engineer, procure, construct and maintain solar arrays throughout the United States. Vanguard's proven expertise is built upon our team's extensive experiences in the renewable energy market sector. Combined, we have decades of construction, project management, and engineering experience in the industry. For more information, please visit www.vanguardenergypartners.com
About Raritan Valley Community College
Ranked by WalletHub.com and Niche.com as the #1 community college in New Jersey, Raritan Valley Community College has been serving as an academic and cultural center for Somerset and Hunterdon County residents for over 50 years. The College has been nationally recognized for its service to the community, environmental stewardship, and commitment to diversity. It is home to a Planetarium, Science Education Institute and 3M Observatory; a Theatre offering professional performances for all ages; and an Honors College for high achieving students. The College offers more than 90 associate degrees and certificates, as well as career training and professional development courses. RVCC is located at 118 Lamington Road in Branchburg, NJ. For further information, visit www.raritanval.edu
# # #