Greenskies Clean Focus, Titan Energy & Connecticut Green Bank Partner to Install 137 kW Solar System for YMCA of Greater Hartford
YMCA of Greater Hartford's Putnam Facility to Save $10,500 in Electricity Costs Annually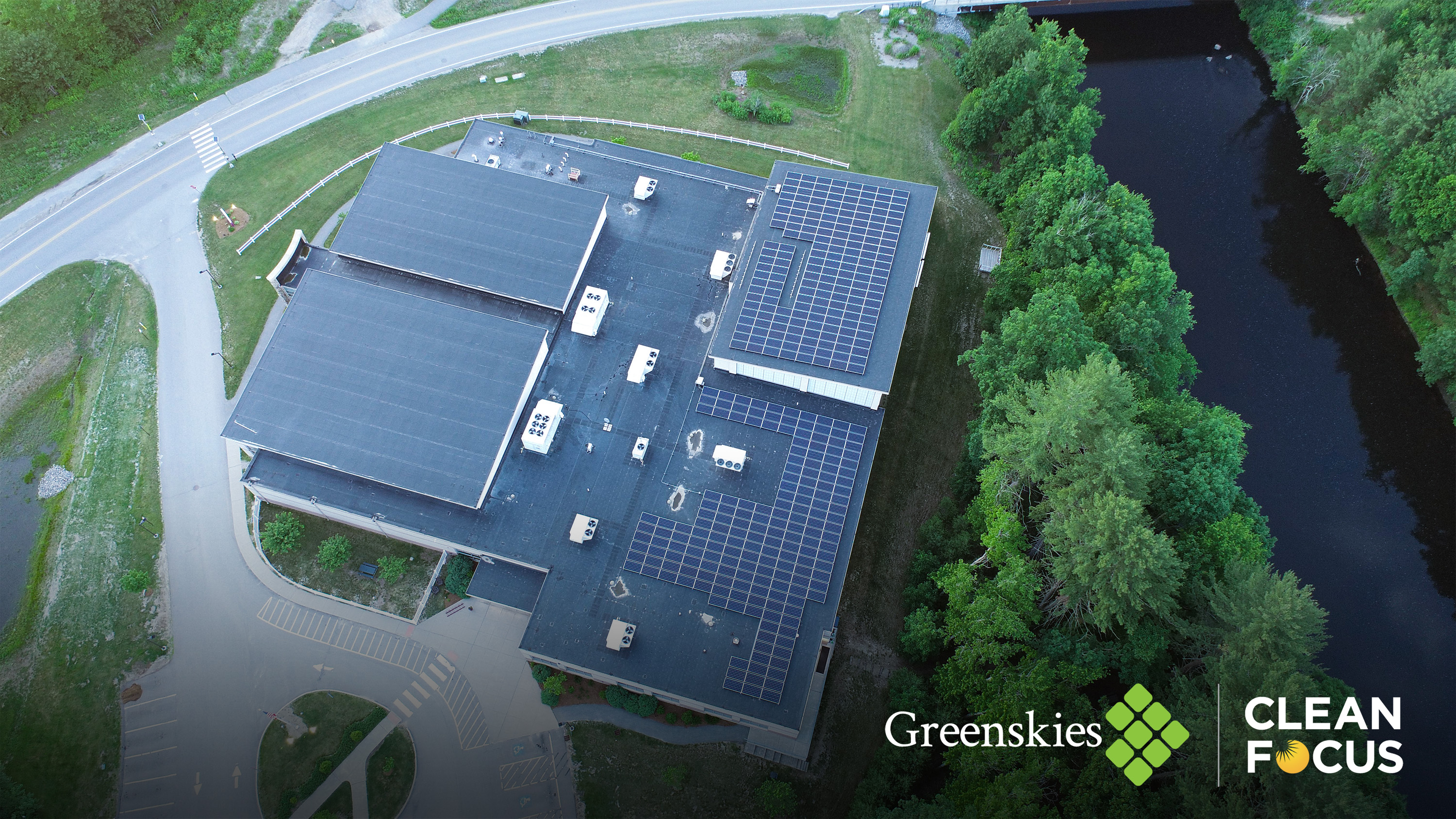 North Haven, CT (June 16, 2022) – The YMCA of Greater Hartford has partnered with Greenskies Clean Focus, Connecticut's top commercial solar developer, Titan Energy, and Connecticut Green Bank to install a 137 kilowatt (kW) solar energy system on the roof at the Hale YMCA in Putnam, CT. The Y anticipates the array will provide up to 20% of its facility's annual electricity for a projected yearly savings of approximately $10,500.
The Hale YMCA Youth and Family Center programs and services positively impact thousands of children and families in nearby Brooklyn, Eastford, Killingly, Plainfield, Pomfret, Putnam, Thompson, Woodstock, and the surrounding area. The solar array will help reduce energy costs associated with energy-intensive branch amenities like the indoor pool and the wellness center health and fitness programs.
"The Hale Y supports more than 5,000 members in Windham County, offering a wide variety of wellness services for families and individuals of all ages," said Harold Sparrow, President and CEO for the YMCA of Greater Hartford. "Implementing solar energy not only reduces our carbon footprint but also provides significant energy cost savings, savings that translate into valuable programs for our community."
The solar system of 360 photovoltaic (PV) panels can generate nearly 148,000 kilowatt-hours (kWh) of clean energy annually, offsetting approximately 231,000 pounds of carbon dioxide (CO2). The equivalent of taking around 23 cars off the road or planting about 1,700 trees each year. (Source: US EPA Greenhouse Gas Calculator)
"We are pleased to provide the YMCA with a solution to reduce their utility costs," said Stanley Chin, President and CEO of Greenskies. "Adding onsite energy generation with solar is a reliable and effective way for nonprofits to greatly reduce operating expenses long-term while also helping fight climate change."
Working closely with Titan Energy, a leading full-service energy consulting company, and Connecticut Green Bank, the nation's first green bank, Greenskies has helped the YMCA of Greater Hartford to secure a long-term reduction in electricity costs through onsite solar.
"Titan Energy is proud of the management strategy implemented at the Y facilities of Connecticut to keep electricity supply costs low and predictable over the long term," said Adam Teff, General Manager TitanGen. "Titan Energy conducted a detailed energy analysis of all the Greater Hartford Y locations for the feasibility of solar. The Hale Y was the first Greater Hartford Y facility to go solar through this analysis. Titan Energy is pleased to have provided additional savings to our long-standing relationship with Hale Y through Greenskies Clean Focus' solar installation."
"We are excited to see more solar installations at properties like the Greater Hartford YMCA. The cost savings and environmental benefits of this project are great for the community, and we hope that highly visible projects like this will encourage other building owners to look into how they can also enjoy solar with no money down," said Mackey Dykes, Vice President of Financing Programs, Connecticut Green Bank.
About Greenskies Clean Energy
Greenskies Clean Focus offers a full suite of renewable energy solutions to commercial, public sector, and utility energy users throughout the US. Our vertical integration delivers the most cost-competitive solar, battery storage, and low carbon solutions. From beginning to end, our customers work with a single delivery team. Greenskies originates, develops, constructs, and operates, while Clean Focus finances and owns the systems. For more information, please visit www.greenskies.com
About Titan Energy
Titan Energy New England is an independent energy consultancy group with in-depth knowledge of energy procurement, demand-side management and onsite generation services operating in all competitive markets throughout North America. Titan Energy creates comprehensive energy management strategies utilizing data to control and reduce energy costs. For more information, please visit www.titanenergyne.com
Through its affiliate company, TitanGen, LLC ("TitanGen"), provides renewable energy project development and consultancy services to clients. TitanGen provides the necessary support to deliver best-in-class power creation and distribution technologies including, but not limited to, solar, fuel cell and combined heat and power.
About the YMCA of Greater Hartford
The YMCA of Greater Hartford has been building stronger communities for 170 years. The non-profit is committed to providing resources in youth development, healthy living, and social responsibility to promote diversity, inclusion, and equity for all citizens of all ages. In 2021, the association served 56,000 community members and provided over $750,000 in financial assistance toward valuable resources that provided access to life changing programs. As our communities begins to recover from the pandemic, we will continue to offer foundational programs in education to mitigate lost learning; to fight food insecurity; to support seniors, children and families; as well as swim lessons, childcare, summer camp, LIVESTRONG, and so much more. Join us at ghymca.org and Belong to Something Greater.
About Connecticut Green Bank
The Connecticut Green Bank was established by the Connecticut General Assembly in 2011 as the nation's first green bank and has since supported the creation of more than 23,000 green energy jobs in the state, while reducing the energy cost burden on over 55,000 families, businesses, and nonprofits. The Green Bank's vision is a planet protected by the love of humanity and its mission is to confront climate change and provide all of society a healthier, more prosperous future by increasing and accelerating the flow of private capital into markets that energize the green economy. This is accomplished by leveraging limited public resources to scale-up and mobilize private capital investment into Connecticut. In 2017, the Connecticut Green Bank received the Innovations in American Government Award from the Harvard Kennedy School Ash Center for Democratic Governance and innovation for their "Sparking the Green Bank Movement" entry. For more information about the Connecticut Green Bank, please visit www.ctgreenbank.com
# # #