Greenskies Clean Focus Helps Lyman Products Offset 96% of Energy Use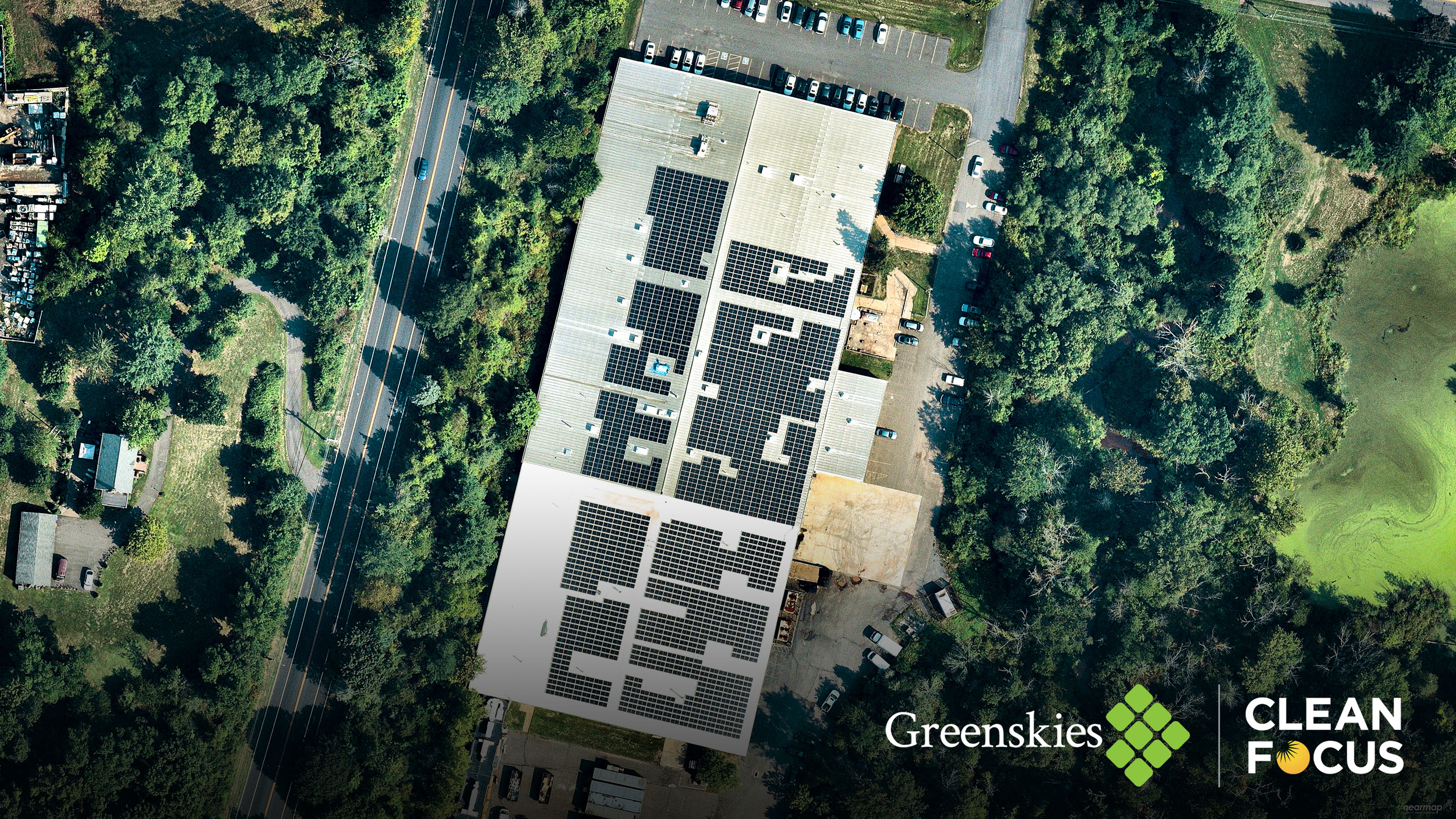 Middletown, Connecticut Manufacturer Installs 698 kW of Rooftop Solar
North Haven, CT (November 8, 2022) – Greenskies Clean Focus, a national leader in renewable energy solutions, has completed the installation of a 698.87 kilowatt (kW) rooftop solar array for Lyman Products headquarters and manufacturing facility in Middletown, CT. Lyman anticipates this solar installation will satisfy an estimated ninety-six percent of the facility's annual electricity needs.
Lyman partnered with Greenskies to develop, finance, construct, own, operate, and maintain the system under a 25-year Power Purchase Agreement (PPA). Under the agreement, Lyman pays no upfront costs and benefits from reduced energy rates, saving more than $328,000 over the term. Greenskies also financed a partial reroof for around forty percent of the facility.
The 1,442 panels on Lyman's rooftop will generate around 739 Megawatt-hours (MWh) of clean, renewable energy each year. Over the next twenty-five years, that energy will offset 13,100 metric tons of carbon dioxide (CO2), the equivalent of taking 2,825 gas-powered cars off the road or preserving 15,500 acres of forest. (Source: US EPA Greenhouse Gas Calculator)
"Greenskies is proud to partner with Lyman to help them achieve their energy and sustainability goals," said Stanley Chin, President and CEO of Greenskies Clean Focus. "This project is a wonderful example of how on-site solar can help manufacturers adapt to ESG requirements without compromising profitability."
Lyman Products Connecticut facility features an extensive CNC machining center, a quality assurance department with state-of-the-art CMM equipment, and a robust R&D department. They specialize in high precision U.S. manufactured reloading equipment and other product lines that service the outdoor industry, law enforcement, and military.
"Lyman is very satisfied with our partnership with Greenskies," said Rick Ranzinger, President and CEO of Lyman Products. "We are proud of the positive impact that this will have on the environment and the community in which we work. In addition, the energy savings will allow us to further invest in our people, equipment and technology that will allow us to grow and continue to contribute to the CT economy."
About Greenskies Clean Focus
Greenskies Clean Focus offers a full suite of decarbonization solutions, including onsite and offsite solar, battery storage, microgrids, and CCHP. Our vertical integration delivers the most cost-competitive solutions for commercial, public sector, and utility energy users throughout the US. From beginning to end, our customers work with a single delivery team. Greenskies originates, develops, constructs, and operates, while Clean Focus finances and owns the systems. Since our founding in 2009, we have constructed and operate 285 MW of renewable energy facilities across 549 sites in 19 states. Solar Power World ranks Greenskies Clean Focus as the number one commercial solar developer in the Northeast and top three in the US, based on cumulative kW installed. For more information, please visit www.greenskies.com
About Lyman Products
Lyman Products has continued to be a leader in developing innovative products for reloaders and shooters for more than 140 years. Lyman's reloading kits, presses and dies have provided reloaders with all the high-quality equipment they need to start reloading. Mark 7, Pachmayr, TacStar, Trius Traps, A-Zoom Precision Snap Caps, and Butch's Gun Care are all Lyman brands. For more information please visit us at lymanproducts.com. Connect with Lyman Products on Facebook at Facebook.com/lymanproducts and follow us on Instagram @LymanProducts.
# # #