Greenskies Clean Focus and Titan Energy Help Covenant Living of Cromwell Save $1.4 Million in Energy Costs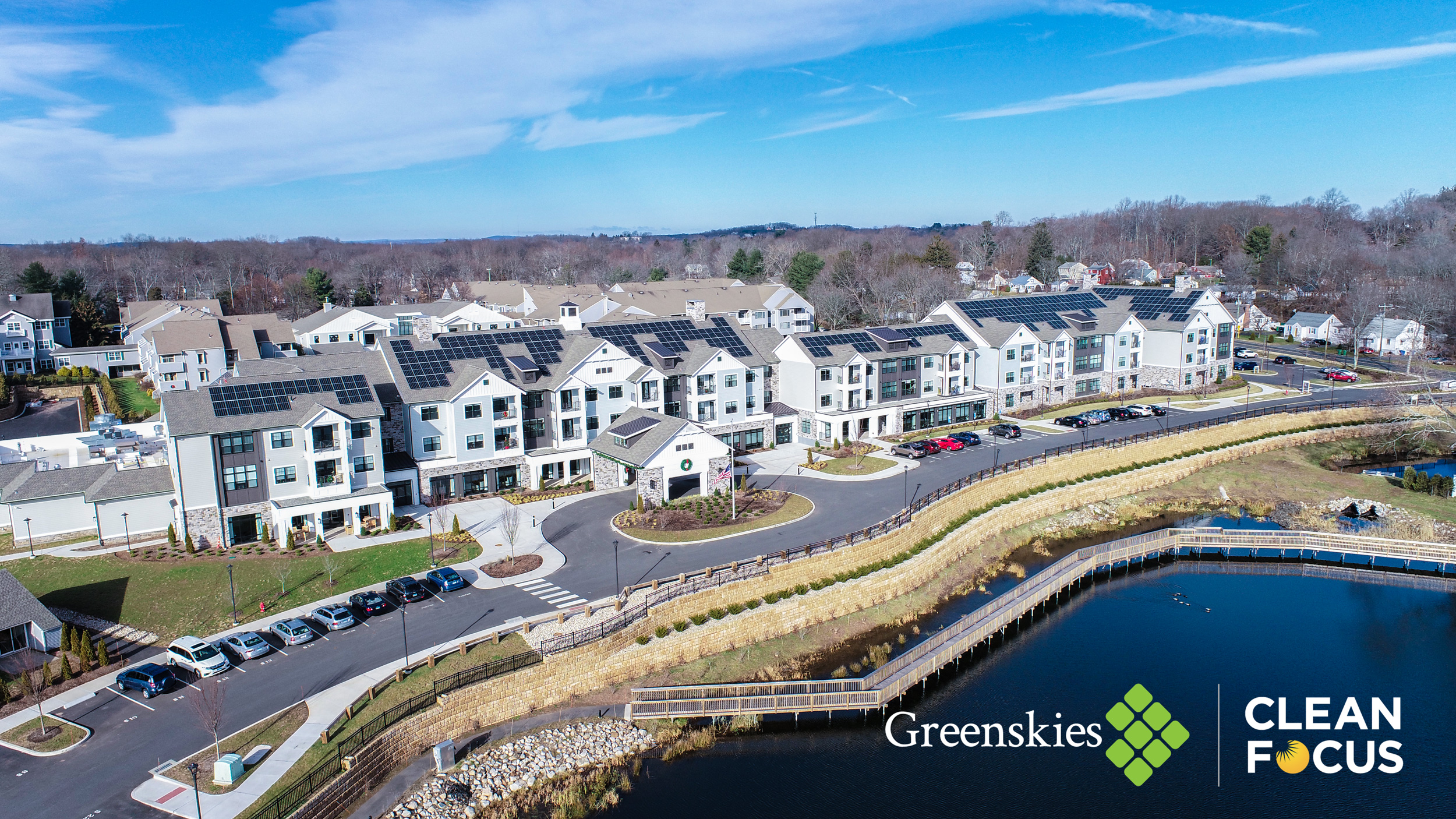 Cromwell, CT Senior Living Retirement Community Benefits from 159 kW Solar Project
North Haven, CT (February 16, 2022) – Covenant Living of Cromwell has partnered with Greenskies Clean Focus, Connecticut's top commercial solar developer, and Titan Energy, a leading full-service energy consulting company, to install a 159 kilowatt (kW) solar energy system on the new Town Center building roof.
In addition to reducing operating costs, this solar array will benefit the community in other ways. It will improve their energy independence by delivering low, predictable energy costs while also helping to meet their commitment to sustainability.
"The new Town Center is a reflection of our commitment to current and future residents by providing an environment with the modern living spaces and state-of-the-art amenities," said Terri Cunliffe, CEO of Covenant Living. "That commitment goes a step farther with the installation of the solar panels. We want to do our part to conserve energy, while saving money at the same time. Covenant Living of Cromwell has been here for nearly 60 years and we are now poised for many years to come and doing our part to be environmentally sustainable."
The 356 solar panels installed on the Town Center's roof will generate more than 183,000 kWh of clean energy – that's enough electricity to power nearly 24 Connecticut homes each year. Over the next 20 years, this solar installation will offset 2,600 metric tons of carbon dioxide (CO2), the equivalent of taking 560 cars off the road or preserving more than 3,180 acres of U.S. forests. (Source: US EPA Greenhouse Gas Calculator)
"Greenskies is pleased to have the opportunity to partner with Covenant Living of Cromwell and Titan Energy to bring solar to the residents of this forward-thinking community," said Stanley Chin, President and CEO of Greenskies. "We look forward to continuing to help organizations, like Covenant Living, obtain low-cost, clean energy while making a positive impact on the environment through our renewable energy solutions."
According to Titan Energy, the lead consultant on this project, the solar array will produce approximately 25% of the Town Center's annual electricity use with clean solar power saving the community over $40,000 year / $1.4 million over the 20-year life of the system. An informative one pager is available for community members and residents to learn more about the project.
About Greenskies Clean Energy
Greenskies Clean Focus offers a full suite of renewable energy solutions to commercial, public sector, and utility energy users throughout the US. Our vertical integration delivers the most cost-competitive solar, battery storage, and low carbon solutions. From beginning to end, our customers work with a single delivery team. Greenskies originates, develops, constructs, and operates, while Clean Focus finances and owns the systems. For more information, please visit www.greenskies.com
About Titan Energy
Titan Energy New England is an independent energy consultancy group with in-depth knowledge of energy procurement, demand-side management, onsite generation services, data management and dashboarding operating in all competitive markets throughout North America. Titan Energy creates comprehensive energy management strategies utilizing data to control and reduce energy costs. For more information, please visit www.titanenergyne.com
Through its affiliate company, TitanGen, LLC ("TitanGen"), provides renewable energy project development and consultancy services to clients. TitanGen provides the necessary support to deliver best-in-class power creation and distribution technologies including, but not limited to, solar, fuel cell and combined heat and power.
# # #