Greenskies & Vanguard Energize 2.4 MW of Solar at New Jersey Cold Storage Facilities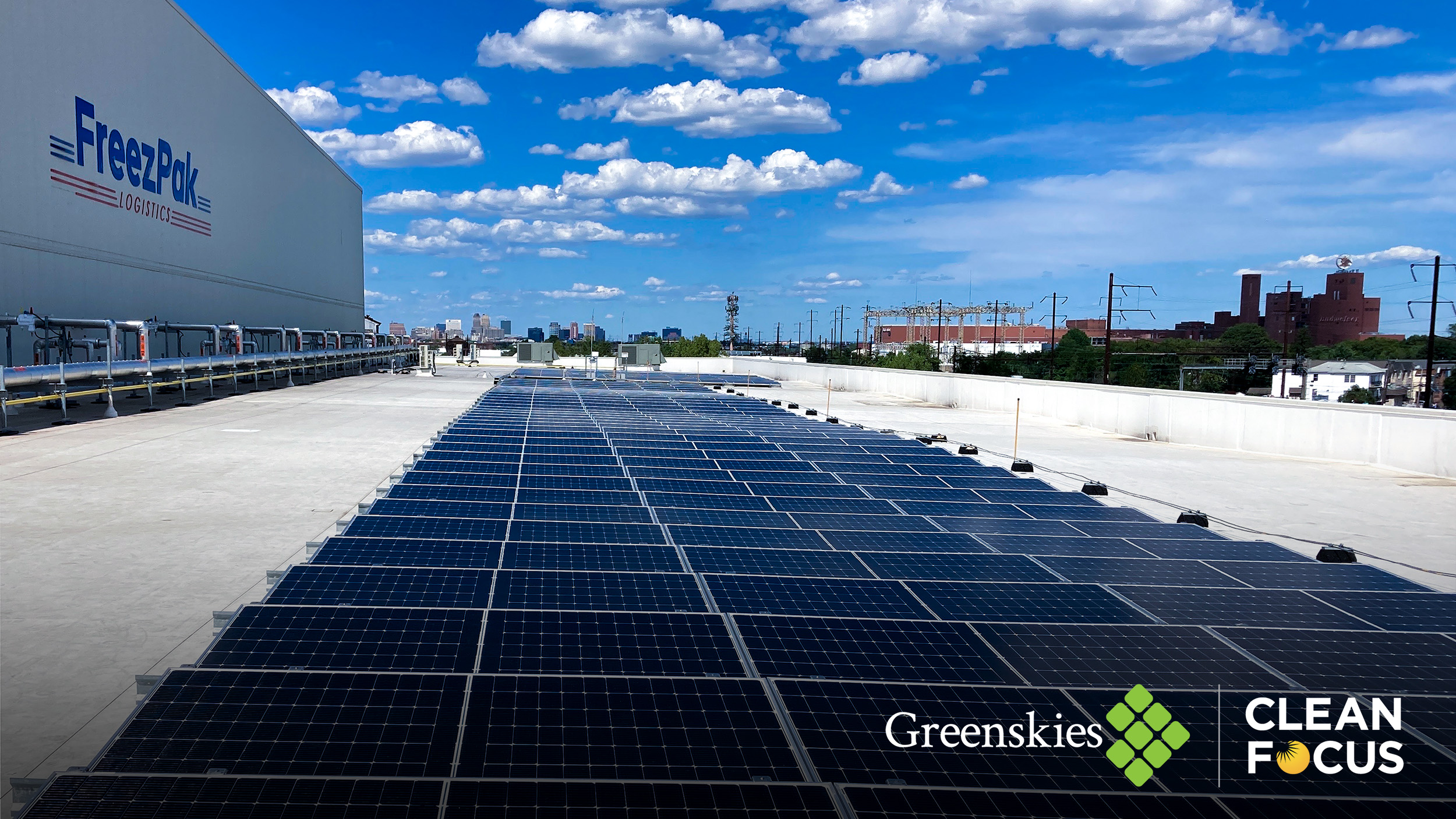 Freezpak Logistics Invests in a More Sustainable Future with Solar
North Haven, CT (October 4, 2022) – Greenskies Clean Focus, a national leader in commercial renewable energy development, and Vanguard Energy Partners, a national solar construction firm, today announced the completion of 2.4 MW of rooftop solar for Freezpak Logistics, a leading third-party food logistics company. The recently energized solar energy systems will provide clean, renewable solar electricity to Freezpak cold storage facilities in Carteret (985 kW) and Elizabeth (1,414 kW), New Jersey.
According to the American Council for an Energy-Efficient Economy (ACEEE), refrigerated warehouses have one of the highest electric energy consumption rates in the commercial building sector. Their electric usage often ranges from 40 to 60 kilowatt-hours per square foot per year, with refrigeration accounting for more than 70 percent of overall electric use.
The solar installations at FreezPak Carteret and Elizabeth are projected to generate a combined 2,832,900 kWh (kilowatt hours) in their first year of clean electricity generation. Over the next 25 years, that energy will offset around 50,200 metric tons of carbon dioxide (CO2), the equivalent of taking more than 10,825 gas-powered cars off the road or preserving 59,400 acres of forest. (Source: US EPA Greenhouse Gas Calculator)
"Our company is very focused on controlling cost, not only for the bottom line but also to continue our support to be closer and closer off the grid," said Mike Saoud, Co-CEO of Freezpak. "The use of hydrogen fuel cells, solar panels, upgraded dock equipment, and most recently the use of ammonia refrigeration systems. These are all components of becoming a more sustainable organization. The use of our hydrogen plants will also pay off in the very near future with hydrogen tractors coming into the market."
Co-CEO Dave Saoud added, "FreezPak has been steadfast in our efforts to become more ESG. Woodbridge is being built to LEED® certification standards. We will continue to be open to ways we can be more environmentally responsible."
Greenskies funded the projects at no upfront cost to Freezpak, who will purchase the power generated by the arrays from Greenskies at a low, fixed rate for the next fifteen years. Greenskies will also provide ongoing management and maintenance.
"As Freezpak's long-term partner in renewable energy, Greenskies is proud to help them lower emissions and combat climate change while reducing energy costs," said Stanley Chin, President and CEO of Greenskies. "It's rewarding to work with local partners like Vanguard to deploy onsite solar and accelerate the transition to renewable energy sources for environmentally conscious businesses like Freezpak."
Vanguard delivered the job on schedule, overcoming pandemic-related supply chain and logistical delays to successfully meet the New Jersey Board of Public Utilities (BPU) TREC (Transitional Renewable Energy Certificate) deadline.
"Vanguard appreciates the opportunity to support Freezpak Logistics and their industry-leading sustainability commitment," said Alex Rivera, Senior Vice President of Solar Development & Originations. "By leveraging NJ's well thought out clean energy policies, Vanguard and Greenskies were able to help Freezpak reduce its dependence on fossil fuels and lower their operating costs."
FreezPak Logistics is a family-owned company headquartered in Carteret, New Jersey. The company currently operates five facilities, including four in New Jersey and one in Philadelphia. FreezPak also has facilities under construction in Miami and Woodbridge, New Jersey.
A third Freezpak location in Woodbridge, NJ, projected to open in the fourth quarter of 2022, will also host a new rooftop solar energy system in partnership with Greenskies and Vanguard.
About Greenskies Clean Focus
Greenskies Clean Focus offers a full suite of renewable energy solutions to commercial, public sector, and utility energy users throughout the US. Our vertical integration delivers the most cost-competitive solar, battery storage, and low carbon solutions. From beginning to end, our customers work with a single delivery team. Greenskies originates, develops, constructs, and operates, while Clean Focus finances and owns the systems. For more information, please visit www.greenskies.com
About Vanguard Energy Partners
Vanguard, a Minority-Owned Business (MBE), is a nationally recognized solar EPC specializing in commercial, industrial, and utility-scale projects. Vanguard Energy Partners, LLC is part of the Ferreira Family of Companies. Our companies are united by a shared vision of building a diverse and inclusive work environment, delivering the highest quality of work to our clients, and making an impact through our hard work and dedication. Our core values of safety, integrity, teamwork, innovation, and execution are at the center of all our operations. We engineer, procure, construct and maintain solar arrays throughout the United States. Vanguard's proven expertise is built upon our team's extensive experiences in the renewable energy market sector. Combined, we have decades of construction, project management, and engineering experience in the industry. For more information, please visit www.vanguardenergypartners.com
About Freezpak Logistics
Established in 2001, FreezPak is a family-owned business with headquarters in Carteret, NJ. FreezPak and has been providing customized distribution services since launching. FreezPak continues to stay ahead of the curve with innovation and the continuous drive to meet the rising demand for cold storage space. For more information, please visit www.freezpak.com
# # #