Greenskies Saves Connecticut State Colleges & Universities $9.4 Million in Energy Costs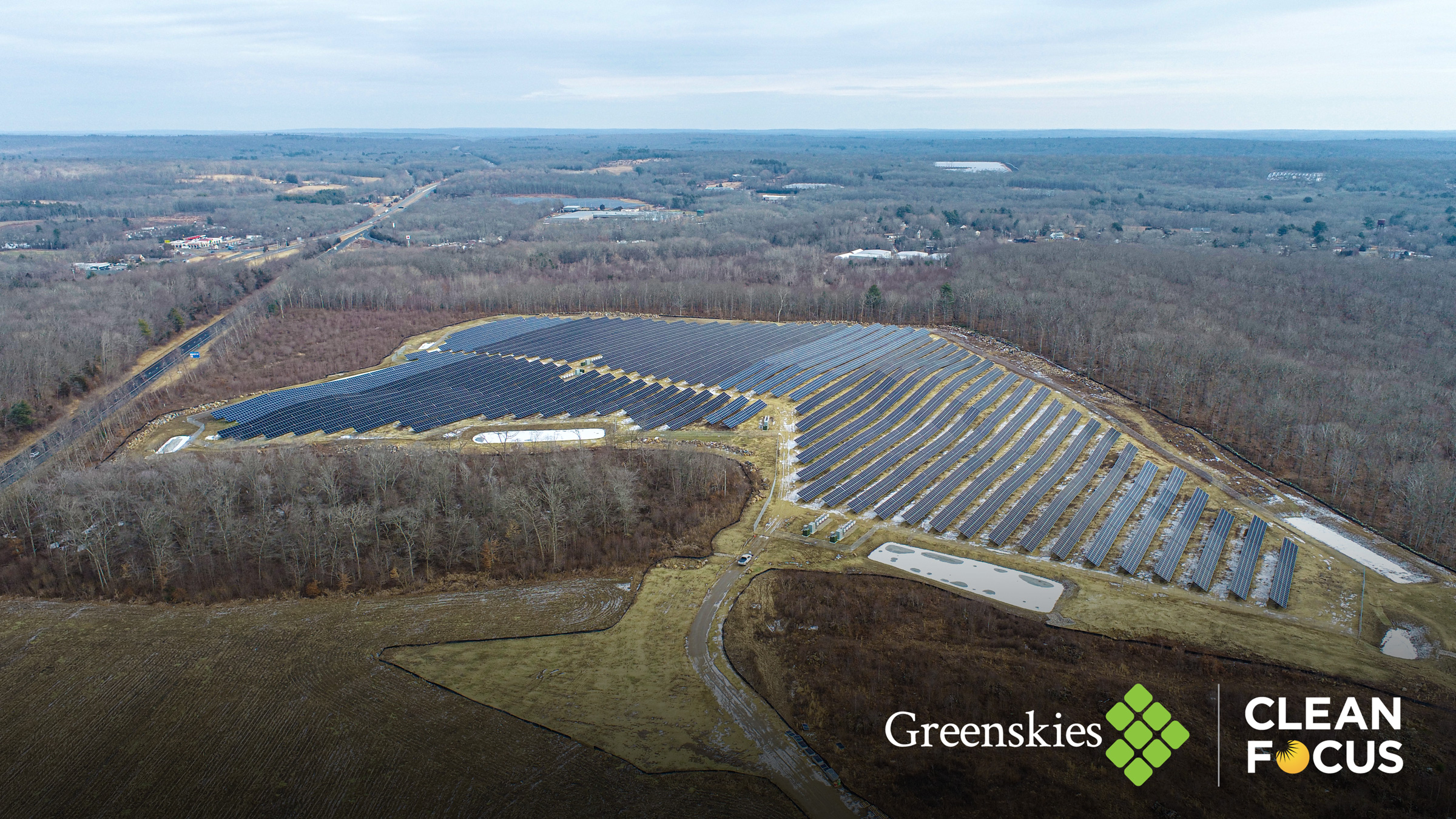 North Stonington, CT Solar Farm Benefits Five CSCU Campuses
North Haven, CT (March 29, 2022) – Greenskies Clean Focus, Connecticut's top commercial solar developer, recently completed the second of nine offsite solar systems planned for the Connecticut State Colleges and Universities (CSCU). The 6.1-megawatt (MW) ground-mounted solar array in North Stonington, CT, will help CSCU realize an estimated $9.4 million in energy savings within the first 20 years.
Utilizing a mechanism called virtual net metering (VNM), the North Stonington solar farm will allocate power to five CSCU campuses across the state. VNM works by allowing CSCU to utilize power generated at a remote site for facilities not directly connected to the solar array. As a result, school buildings at Central Connecticut State University in New Britain, Eastern Connecticut State University in Willimantic and Western Connecticut State University in Danbury addition to Manchester Community College in Manchester, and Tunxis Community College in Farmington will benefit from reduced energy costs.
"Our latest project with CSCU helps them further reduce operating expenses and take additional steps toward a more sustainable future," said Stanley Chin, President and CEO of Greenskies. "Greenskies is thrilled to continue supporting CSCU's ongoing solar energy initiatives."
In addition to the financial benefits, this project is expected to generate upwards of 8.8 million kWh of clean, renewable energy every year. Over the next 20 years, that's enough clean, renewable energy to offset 125,000 metric tons of carbon dioxide (CO2), the equivalent of taking more than 27,000 cars off the road or preserving over 153,000 acres of U.S. forests. (Source: US EPA Greenhouse Gas Calculator)
"It was an honor to work hand-in-hand with the Lewis Brothers and Greenskies to devote a portion of their property to a project that creates significant savings for the Connecticut State Colleges and Universities, helps sustain the Lewis family's continued farm operations and leaves the door open to future reuse of the property for purposes that suit the owner's needs," said Adam Teff, General Manager of TitanGen.
Located in North Stonington, off Boombridge Road, along the I-95 corridor, this ground-mounted solar array consists of nearly 14,000 solar panels and occupies approximately 27 acres of land leased from Beriah Lewis Farm. Converting unused or underutilized land into a solar farm helps expand the availability of renewable energy and preserve valuable soil for future generations. At the end of its lifespan, the solar installation will be removed, and the land returned to its original state.
The Beriah Lewis Farm, in operation since 1791, sells meat and dairy products to restaurants and markets throughout southeastern Connecticut. "Solar is a win-win situation. Hosting solar on our land makes great environmental sense," said Ledyard Lewis. "It honors the tradition of this land to provide for our community."
"We are pleased to work with the Beriah Lewis Farm, another Connecticut business deeply rooted in the local community, and we look forward to a long relationship over the lifetime of the project," said Chin.
About Greenskies Clean Energy
Greenskies Clean Focus offers a full suite of renewable energy solutions to commercial, public sector, and utility energy users throughout the US. Our vertical integration delivers the most cost-competitive solar, battery storage, and low carbon solutions. From beginning to end, our customers work with a single delivery team. Greenskies originates, develops, constructs, and operates, while Clean Focus finances and owns the systems. For more information, please visit www.greenskies.com
About Titan Energy
Titan Energy New England is an independent energy consultancy group with in-depth knowledge of energy procurement, demand-side management, onsite generation services, data management and dashboarding operating in all competitive markets throughout North America. Titan Energy creates comprehensive energy management strategies utilizing data to control and reduce energy costs. For more information, please visit www.titanenergyne.com
Through its affiliate company, TitanGen, LLC ("TitanGen"), provides renewable energy project development and consultancy services to clients. TitanGen provides the necessary support to deliver best-in-class power creation and distribution technologies including, but not limited to, solar, fuel cell and combined heat and power.
# # #