Greenskies Clean Focus Energizes 231 kW Solar System for CVEC on Martha's Vineyard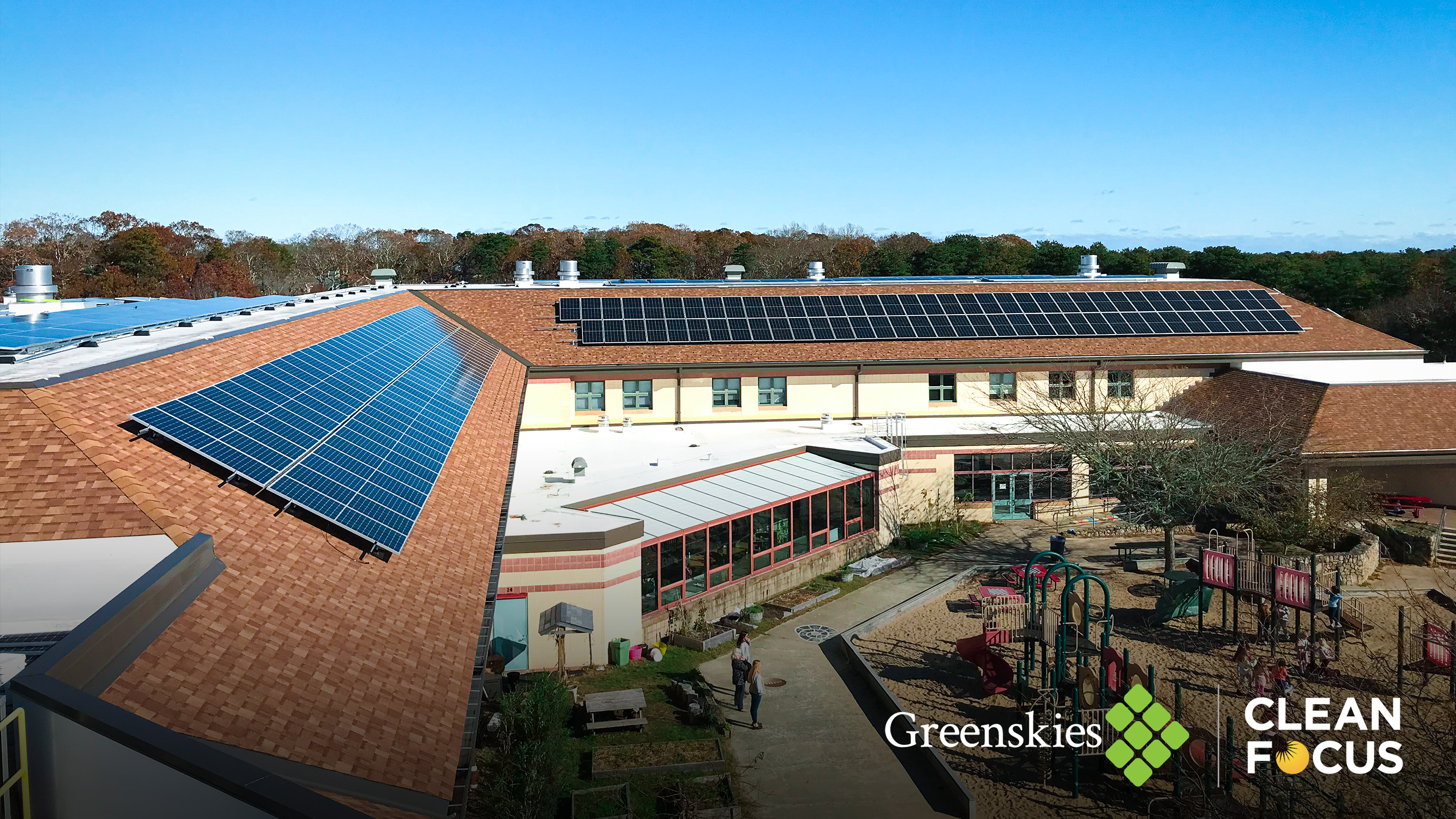 Oak Bluffs Elementary School Lowers Carbon Footprint with Solar
North Haven, CT (September 22, 2022) – Cape and Vineyard Electric Cooperative (CVEC) partnered with Greenskies Clean Focus, a national leader in renewable energy solutions, to install a 231.77 kilowatt (kW) solar energy system at Oak Bluffs Elementary School in Massachusetts.
Annually, the solar array of 600 photovoltaic (PV) panels can generate over 265,000 kilowatt-hours (kWh) of clean energy, offsetting more than 414,000 pounds of carbon dioxide (CO2). Over the next twenty years, that's the equivalent of taking about 810 gas-powered cars off the road or preserving 4,440 acres of forest. (Source: US EPA Greenhouse Gas Calculator)
"Greenskies is excited to continue our relationship with CVEC and support coastal communities like Oak Bluffs with clean, renewable energy," said Stanley Chin, President and CEO of Greenskies. "Solar helps reduce environmental impact by decreasing the carbon footprint associated with energy needs. " Greenskies was selected to develop, design, finance, construct, own, operate, and maintain the system for a 20-year term. This project marks the eleventh collaboration between CVEC and Greenskies over the last eight years.
CVEC is a public cooperative established in 2007, comprised of 25 member towns and counties on the Cape and Martha's Vineyard, with 60 solar photovoltaic (PV) projects (58 MW) completed or under contract since 2013. They support the development of renewable energy resources to help MA member communities achieve significant electrical cost savings. This project, part of CVEC's Round 5 PV/Storage Initiative RFP, includes a Tesla 58 kW/232 kWh energy storage system unit.
"This is CVEC's first solar PV project that includes battery storage. Where resiliency is so important to this region's communities, such as Oak Bluffs, we know that it is an important addition to our member's renewable energy portfolio," said CVEC's Executive Director Maria Marasco.
About Greenskies Clean Focus
Greenskies Clean Focus offers a full suite of renewable energy solutions to commercial, public sector, and utility energy users throughout the US. Our vertical integration delivers the most cost-competitive solar, battery storage, and low carbon solutions. From beginning to end, our customers work with a single delivery team. Greenskies originates, develops, constructs, and operates, while Clean Focus finances and owns the systems. For more information, please visit www.greenskies.com
About Cape & Vineyard Electric Cooperative (CVEC)
CVEC, established in 2007, is an energy cooperative and is deemed a Massachusetts government entity. It develops and manages solar PV projects which includes battery storage where applicable for its governmental members and participants. For more information, please visit www.cvecinc.org
# # #