Greenskies Clean Focus Doubles Solar Capacity to 2 MW for Town of Killingly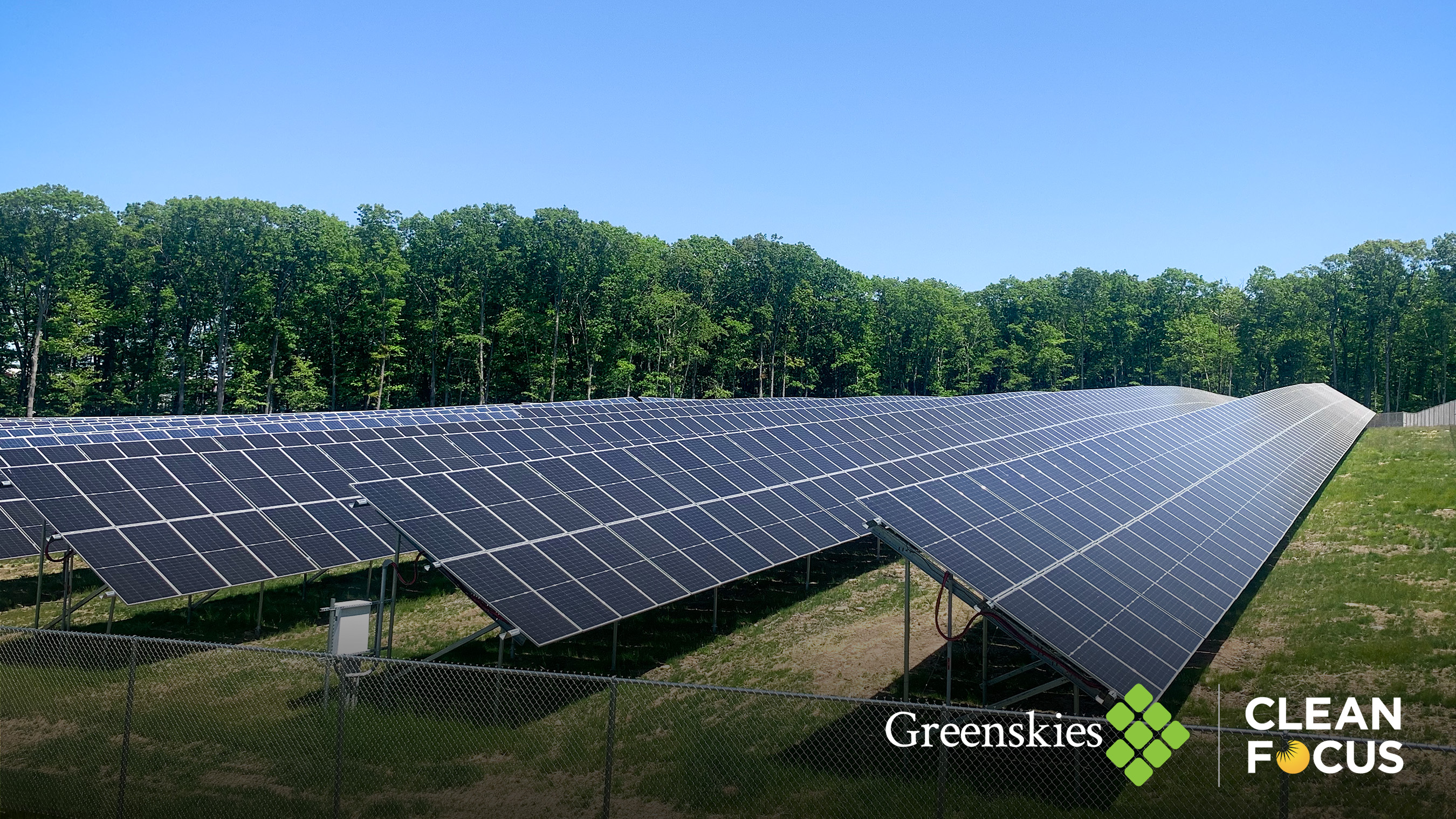 Killingly High School Offsets 90% of Energy Use with Solar Power
North Haven, CT (August 29, 2023) – The Town of Killingly partnered with Greenskies Clean Focus, a national leader in renewable energy solutions, to install an additional 1 MW solar at Killingly High School.
Over the last four years, Greenskies has installed over 2 MW of solar across eight solar arrays at five Town facilities, ranging from the smallest, a 66 kW rooftop array at the Highway Department, to a 310 kW carport canopy array at the District Administrative building and this latest 1 MW ground mount at Killingly High School.
Greenskies funded these projects at no upfront cost to the Town of Killingly, which will purchase the power generated by the array from Greenskies at a low, fixed rate for the next twenty-five years. As the long-term owner and operator of these projects Greenskies will also provide ongoing management and maintenance.
The ground mount at Killingly High School represents Greenskies largest solar installation for the Town. It brings the total solar capacity at the High School to 1.35 MW, offsetting nearly 90% of power needs.
"Greenskies is pleased to build on our relationship with the Town of Killingly to enhance their commitment to reducing costs and emissions with renewable energy," said Stanley Chin, President and CEO of Greenskies Clean Focus. "It's a testament to the merit of the Greenskies team. We look forward to a long relationship with the Town of Killingly over the lifetime of these projects."
Annually, this project alone is projected to generate more than 1,300 megawatt-hours (MWh) of clean energy, offsetting nearly 950 metric tons of carbon dioxide (CO2). Over the next twenty-five years, that's the equivalent of taking about 5,275 gas-powered cars off the road or preserving 28,275 acres of forest. (Source: US EPA Greenhouse Gas Equivalencies Calculator)
"The Town of Killingly is excited to expand our commitment to reducing costs and our carbon footprint," said Mary Calorio, Town Manager. "The partnership with Titan Energy and Greenskies has led to the development of several solar installations. We look forward to our continued partnership in achieving these goals."
The Town of Killingly partners with Titan Energy, the designated energy management consultant for 168 member municipalities of the Connecticut Conference of Municipalities (CCM), to address its energy challenges. In spring 2019, Titan Energy worked closely with Killingly officials to unveil effective energy strategies, combining on-site generation with electricity procurement. Titan identified sites feasible for solar installations and secured advantageous electricity rates through the exclusive 'member-only' municipal CCM Energy Program.
"The Town of Killingly stands as a powerful example of effective energy management, proactively addressing its energy costs and embracing renewable energy sources," said Chris Ramm, General Manager of Titan Energy. "With a well-coordinated energy management strategy, the town ensures stability in energy prices and production, safeguarding against fluctuating energy costs and minimizing greenhouse gas emissions for a sustainable future."
About Greenskies Clean Focus
Greenskies Clean Focus offers a full suite of decarbonization solutions, including onsite and offsite solar, battery storage, microgrids, and CCHP. Our vertical integration delivers the most cost-competitive solutions for commercial, public sector, and utility energy users throughout the US. From beginning to end, our customers work with a single delivery team. Greenskies originates, develops, constructs, and operates, while Clean Focus finances and owns the systems. Since our founding in 2009, we have developed and constructed 310 MW of renewable energy facilities across 578 sites in 19 states. Solar Power World ranks Greenskies Clean Focus as the number one commercial solar developer in the Northeast and top three in the US, based on cumulative kW installed. For more information, please visit www.greenskies.com
About Titan Energy
Titan Energy is an independent energy management consultancy group with in-depth knowledge of energy procurement, demand-side management, generation services, electric vehicle infrastructure, utility data management and dashboarding operating in all competitive markets throughout North America. Titan Energy creates comprehensive energy management strategies utilizing data to control and reduce energy costs. For more information, please visit www.titanenergyne.com
Through its affiliate company, TitanGen, LLC ("TitanGen"), provides renewable energy project development and consultancy services to clients. TitanGen provides the necessary support to deliver best-in-class power creation and distribution technologies including, but not limited to, solar, fuel cell and combined heat and power.
# # #