Greenskies Clean Focus Completes 258 kW of Solar Carports at Two Connecticut Schools
Solar Saves Town of Madison $558,000 in Energy Costs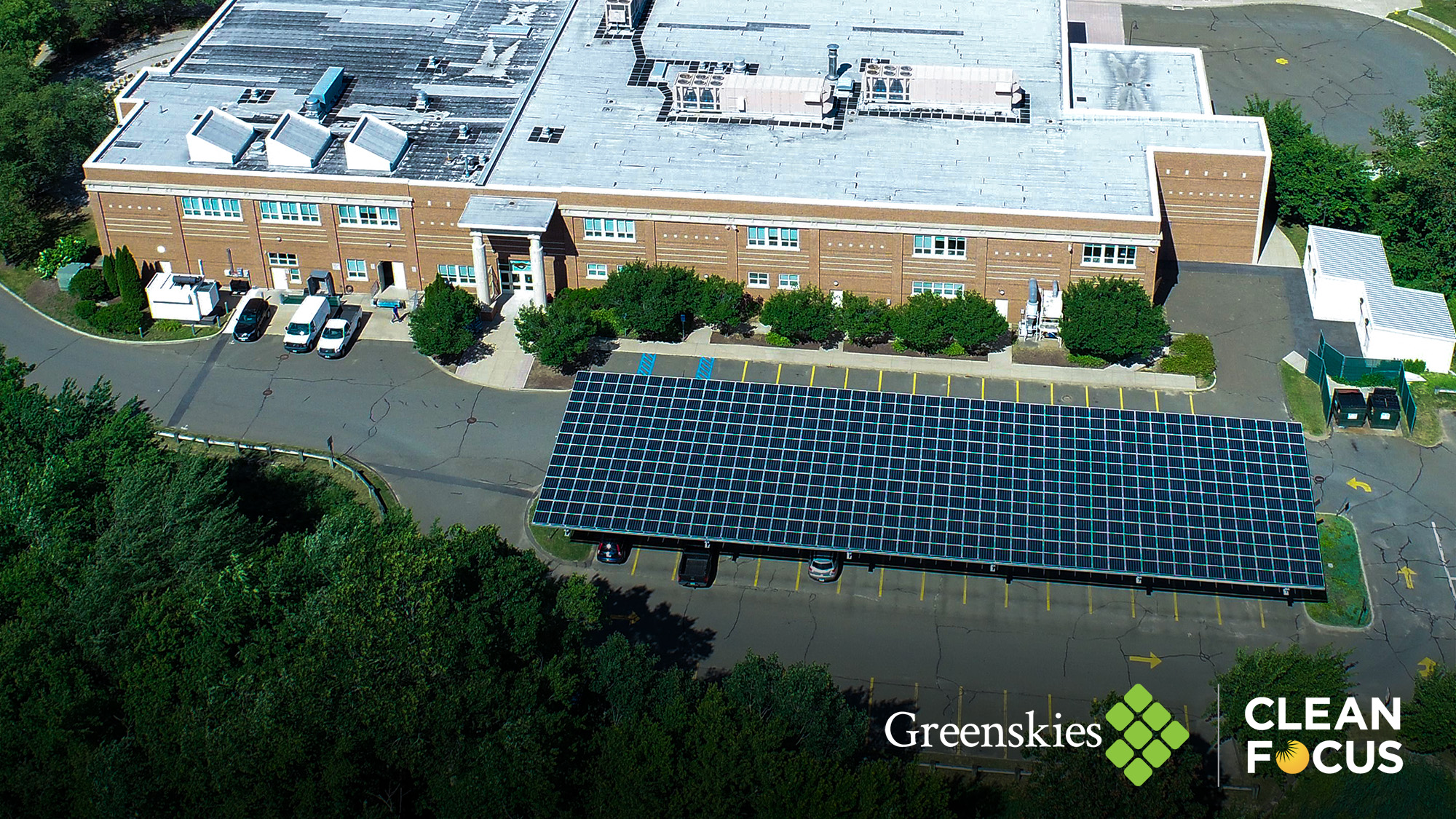 North Haven, CT (June 23, 2022) – Greenskies Clean Focus, Connecticut's top commercial solar developer, recently completed two 129-kilowatt (kW) solar carport arrays for the Town of Madison, Connecticut.
Greenskies installed 684 solar panels in the parking lots at two Madison schools – 342 modules each at Walter C. Polson Middle School and Daniel Hand High School. Annually, the panels will generate more than 319,000 kilowatt-hours (kWh) of clean energy. Over the next 20 years, these projects will offset 4,450 metric tons of carbon dioxide (CO2), which is equivalent to the carbon sequestered by 5,360 acres of U.S. forests. (Source: US EPA Greenhouse Gas Calculator)
"As a coastal community, reducing our environmental impact is top of mind. Madison is a forward-thinking town," said Madison First Selectwoman Peggy Lyons. "More renewable energy from solar decreases our carbon footprint while also mitigating rising energy costs."
Madison's Board of Selectmen issued a request for proposals in September 2020 and selected Greenskies to design, engineer, construct, finance, operate, and maintain two solar photovoltaic carport systems on school property through that process. As a result, the Town and Greenskies entered into a Power Purchase Agreement (PPA) that locks in reduced electricity rates, which will lead to an estimated $558,000 savings over the 20-year term.
"Incorporating solar energy is a cost-effective way to help towns like Madison make the most of their budgets," said Stanley Chin, President and CEO of Greenskies. "A solar PPA is a reliable way to reduce energy expenses with predictable electricity rates. Plus, there are no up-front costs or long-term maintenance fees."
About Greenskies Clean Energy
Greenskies Clean Focus offers a full suite of renewable energy solutions to commercial, public sector, and utility energy users throughout the US. Our vertical integration delivers the most cost-competitive solar, battery storage, and low carbon solutions. From beginning to end, our customers work with a single delivery team. Greenskies originates, develops, constructs, and operates, while Clean Focus finances and owns the systems. For more information, please visit www.greenskies.com
# # #