Greenskies Brings 1 MW of Solar Online for Killingly, Connecticut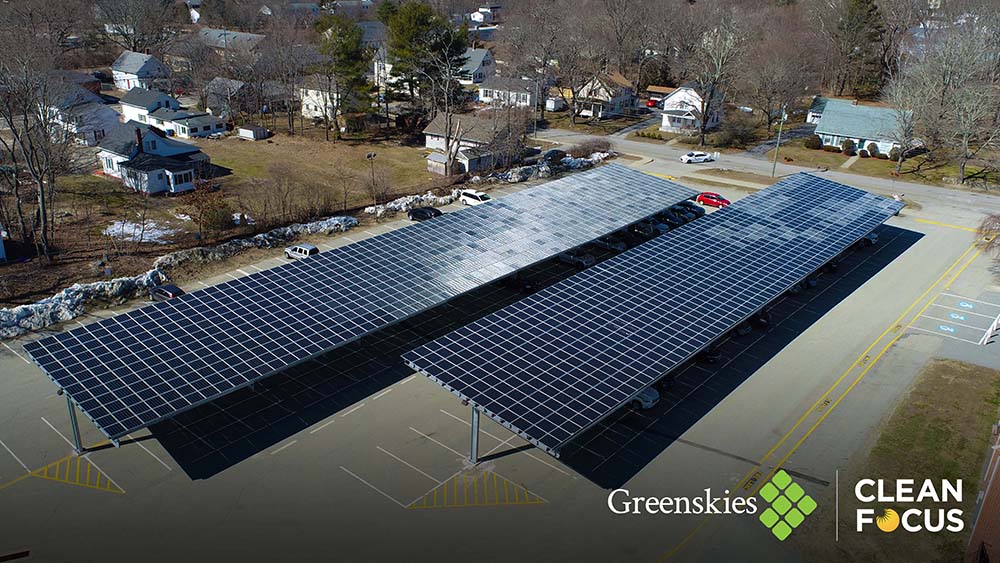 Four Killingly Solar Projects Projected to Save the Town $200,000 Per Year
North Haven, CT (January 4, 2022) – Greenskies Clean Focus, Connecticut's top commercial solar developer, has completed the installation of four solar energy systems totaling approximately 1-megawatt (MW) in the Town of Killingly, CT. Greenskies worked closely with Titan Energy, a local energy consultancy, to determine the town and school buildings with the best solar potential.
Greenskies installed solar panels on rooftops at the Killingly Highway Department building (66 kW) and Killingly High School (332 kW). They also installed a ground-mounted array at Killingly Intermediate School (310 kW) and a solar carport canopy at the Killingly School District Administrative building (310 kW).
Over the term, these projects will offset nearly 21,300 metric tons of carbon dioxide (CO2). That's the equivalent of taking around 4,630 cars off the road or preserving more than 26,000 acres of forest over the next 25 years. (Source: US EPA Greenhouse Gas Calculator)
"We're pleased that these projects will help reduce Killingly's carbon footprint and dependence on fossil fuels," said Robert Angeli, Superintendent of Schools Killingly Public Schools. "These solar installations are a win-win. They demonstrate the benefits of renewable energy to our entire community. We're helping the environment and saving the town money."
Rather than purchase the solar equipment directly, the Town of Killingly, in conjunction with the Killingly Board of Education, entered into no money down solar power purchase agreements (PPAs) with Greenskies Clean Focus. Under the contract, Greenskies developed, constructed, and will operate and maintain the systems, and Clean Focus provided financing and will own the systems. Killingly will purchase the electricity generated at a low, fixed-rate for the term, resulting in both immediate and projected long-term cost savings.
"Greenskies is proud of the steps the Town of Killingly and Killingly Board of Education have taken to implement renewable energy with these solar projects. The resulting energy cost savings from these projects will benefit the entire Town for many years to come," said Stanley Chin, President and CEO of Greenskies. "We look forward to a continued presence in Killingly over the lifetime of our projects together."
Greenskies is working on additional ground-mounted projects for the High School (1 MW) and Intermediate School (337 kW), along with another carport structure at Killingly Central School (130 kW). These additional projects will more than double the solar capacity for Killingly, increasing their environmental offsets and savings.
"The Town of Killingly, Killingly Board of Education and Greenskies Clean Focus have been wonderful, engaged partners throughout the solar development process," said General Manager of TitanGen Adam Teff. "It has been thrilling to lead a process that will ultimately create low-cost renewable energy for every school in Town and reliably yield cost savings greater than $200,000 per year. Killingly is a shining example of a municipality that is focused on creating a better future for its residents."
About Greenskies Clean Focus
Greenskies Clean Focus offers a full suite of renewable energy solutions to commercial, public sector, and utility energy users throughout the US. Our vertical integration delivers the most cost-competitive solar, battery storage, and low carbon solutions. From beginning to end, our customers work with a single delivery team. Greenskies originates, develops, constructs, and operates, while Clean Focus finances and owns the systems. For more information, please visit www.greenskies.com
About Titan Energy
Titan Energy New England is an independent energy consultancy group with in-depth knowledge of energy procurement, demand-side management and onsite generation services operating in all competitive markets throughout North America. Titan Energy creates comprehensive energy management strategies utilizing data to control and reduce energy costs. For more information, please visit www.titanenergyne.com
Through its affiliate company, TitanGen, LLC ("TitanGen"), provides renewable energy project development and consultancy services to clients. TitanGen provides the necessary support to deliver best-in-class power creation and distribution technologies including, but not limited to, solar, fuel cell and combined heat and power.
# # #