Stalled Green Energy Projects May Jolt Legislators
By Steve Majors-Collins
A handful of Connecticut municipalities are pushing legislators to give them the go-ahead to participate in a green energy program that left them out.
After Cheshire poured time and money into one plan that depended on financing through the program, it is "now in jeopardy of losing a solar project," said George Noewatne, the town's public works director.
The virtual net metering program he's referring to allowed municipal, state, and agricultural entities to apply for energy credits that were capped at $10 million statewide, with municipalities allotted at 40 percent of that total.
Other towns facing similar hits if the law isn't revised include Rocky Hill, Canton, Putnam, Bethel, and Woodbridge, each of them claiming they'd invested in projects that are now stalled by lack of access to a crucial energy credit.
As many as 11 communities — as well as the Metropolitan District Commission that provides water to the Hartford region — are seeking help after running afoul of the cap on the program that barred more municipalities from participating once the first $4 million of the annual virtual net metering credits were claimed.
"I don't get it. I don't know why we're in this position. And I'm pretty upset about it," said Rep. Tim Ackert, R-Coventry.
A co-chairman of the Energy and Technology Committee, Sen. Paul Doyle, D-Wethersfield, said lawmakers "are committed to trying to address the stranded towns" but it's not yet clear how they'll do it.
One problem, said representatives of Greenskies Renewable Energy of Middletown, is that most of the so-called stranded towns plunged ahead with their spending after the cap had already been reached.
James Desantes, vice president for business development at the company, said competitors and towns made a deliberate decision to press ahead even though they knew in 2014 that the program's cap had been reached.
But David Schatz, deputy director of policy and electricity markets for California-based SolarCity, said his company — which is working with many of the towns seeking relief — didn't know about the cap until November 2015.
"We didn't slip anything in," Schatz said.
He said the information wasn't provided by the utilities or the state, so municipalities continued work on projects that are now hung up. Schatz urged legislators to let the towns move forward again.
But Greenskies President Michael Silvestrini said that wouldn't be fair either.
He said his company didn't seek additional business because it knew about the cap. Lifting the cap at this point would merely reward competitors that did not follow set procedures, he said.
"We'll settle for just a fair shot," Silvestrini said.
Silvestrini said a better solution would be to reopen the program and give everyone an equal shot at qualifying, perhaps through a random lottery.
The projects on the line range from hydropower in Canton and Barkhamsted to solar panels that Cheshire hopes to install on a closed landfill.
In Bethel, for example, Massachusetts-based Ameresco said it already has $100,000 sunk into a proposal to put solar panels on a former landfill site under the program.
James Daylor, a senior account executive for the company, said it would take another $125,000 to finish the design and permitting work for the project — money he said the firm won't spend as long as the uncertainty about the credit continues.
Bethel's first selectman, Matthew Knickerbocker, said projects such as the one Ameresco has been working on are needed to "help reduce our electric bills, ease pressure on increasingly tight local budgets and benefit our environment."
Elin Swanson Katz, the state's consumer counsel, testified to the energy committee that the Office of Consumer Counsel would offer its conditional support to add another $5 million to the municipal portion of the program to help municipalities whose projects are "stranded" in the queue.
"This expansion would allow towns who currently have shovel-ready VNEM projects the ability to participate in the program," Swanson Katz said. "Given the ongoing budget challenges facing the state and municipalities, Connecticut must continue to help small towns utilize energy programs and new technologies to their fullest extent."
Sen. Tony Hwang, R-Fairfield, said it's important to allow places such as Newtown "to move forward in their efforts to go green and keep projects moving while generating long-term savings."
Eversource told legislators it is concerned about the impact of the program on ratepayers, but couldn't take a position on the measure because the proposal doesn't yet lay out the annual cost of the proposed revisions.
The Nature Conservancy backed the bill as part of its effort to push Connecticut to "greatly and rapidly increase its in-state deployment of clean, renewable distributed energy sources," according to David Sutherland, its director of government relations.
But the Nature Conservancy also urged lawmakers to press ahead with "a comprehensive study that assesses the full range" of energy sources and their impacts on everything from cost to climate.
A pro-solar energy group called Vote Solar is pushing for an even broader solution than legislators are considering this session.
Sean Garren, the nonprofit's northeast regional manager, said the expanding the program is laudable, but a better answer is to drop the cap entirely, as Massachusetts and New York have done.
"The benefits to ratepayers and taxpayers would far exceed any costs of the program," Garren said. "Connecticut is behind many of its peers in expanding access to solar to more of its citizens."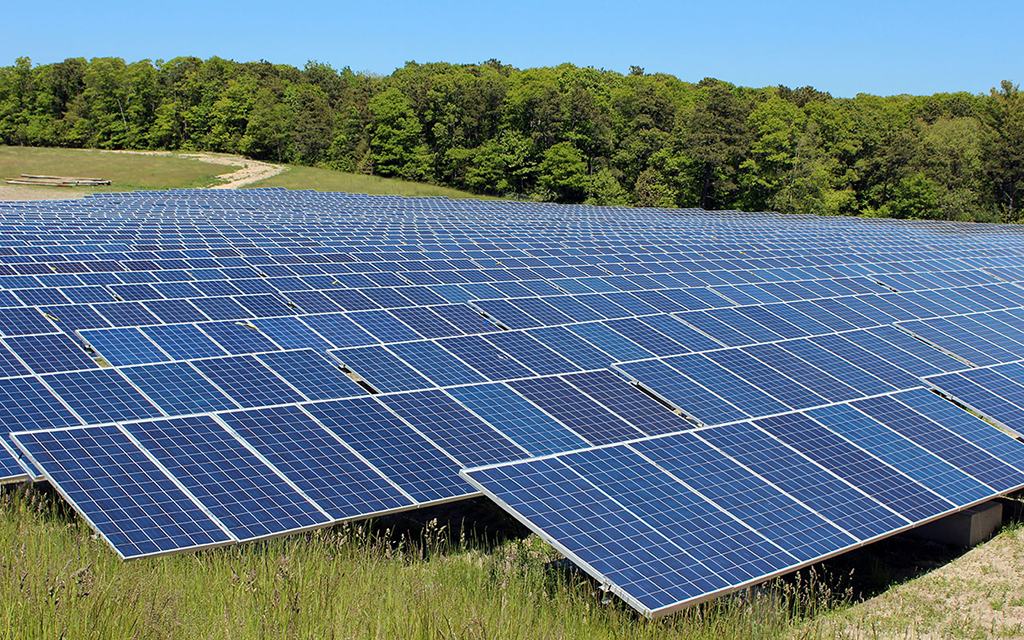 Former state DEEP Commissioner Dan Esty with Iron Mountain Director of Corporate Responsibility and Sustainability Samantha Joseph in Windsor in Oct. 2013 unveiling a 902-panel solar array.