About Us
Greenskies is the leading commercial and industrial (C&I) solar developer in the United States and one of the nation's leading municipal solar installers. We were the Number-One ranked solar developer in the C&I niche in the U.S. PV (photovoltaic) Leaderboard, compiled by GTM Research, the solar industry's leading research firm and data tracker, at the close of the first quarter of 2016. We were also ranked as the nation's Number One C&I solar developer on Solar Power World's 2016 Top 500 Solar Contractors list. Solar Power World is the solar industry's leading business-to-business publication.
Founded in 2008, Greenskies had financed, designed, engineered and constructed 419 solar projects across the United States which generate more than 187 megawatts (MW) of clean electric energy for customers across 18 states as it approached its eighth anniversary in the summer of 2016. The 419 solar projects include both operational projects and projects currently under construction.
Our primary focus is on commercial and municipal projects for high-quality customers, including Target Corp., Walmart Stores, Inc., Sam's Club, and various towns and cities across the Northeast.
Greenskies is currently the largest privately held C&I solar development company in the United States.
OUR MISSION:
To provide low-cost, reliable, clean electricity to a diverse portfolio of commercial and industrial clients, municipalities and government agencies, educational institutions and utilities through the development of distributed solar power generating facilities.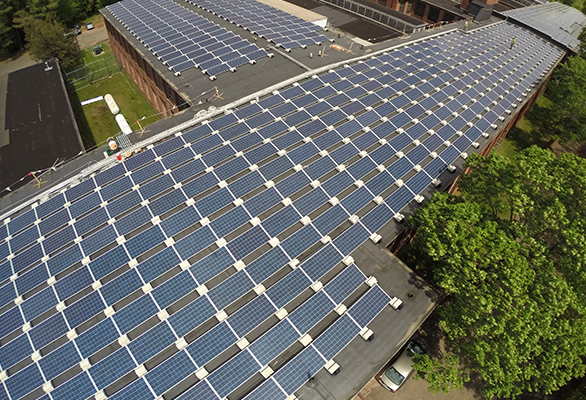 Our offices at 180 Johnson St. in Middletown, Conn., are powered by our own 329-kilowatt solar installation that includes 1,078 individual solar panels. Greenskies worked in conjunction with the town to help revitalize an historic factory building, the former home of Remington Rand Typewriter Co., and bring it back to its former glory. Today the massive, 184.000-square-foot structure serves as a small business incubator in which many young businesses like ours have found an affordable space to operate and grow.


our story

Greenskies sprang to life on a warm summer evening in 2008 when two young men who would soon become brothers-in-law – Mike Silvestrini, then 28, and Art Linares Jr., then 19, – began a discussion on the front porch of the Linares home in Westbrook, Conn., about the need for the United States to develop cleaner, more efficient and less expensive sources of energy.
A series of global circumstances in the news at the time had made clean, domestically produced energy a serious business consideration. Those circumstances included the fact that gasoline prices had spiked to $150/barrel; Al Gore and the United Nations' Climate Control Panel had won the Nobel Prize for their research on global warming; and Americans were currently engaged in what would prove to be the bloodiest year of the war in Iraq. Global electricity needs were at an all-time high and growing; and it became abundantly clear that we had to change our energy course.
These circumstances combined to create new national objectives to reduce foreign oil dependency, reduce the production of CO₂, and modernize the way we generate, procure and use energy.
Greenskies was created to address these issues and to capitalize on the unparalleled opportunity presented by the reconfiguration of our energy infrastructure. After a thorough assessment of all commercially viable renewable energy sources in play at the time, Greenskies' two founders decided that the energy industry with the greatest potential was the solar industry.
Starting only weeks after the 2008 financial crisis, Greenskies boot-strapped its way to sustainable growth by exhaustively studying the solar industry, mastering and then modifying the business models currently being used by energy professionals, and building a coalition of partners who themselves were seeking a different kind of business in the new economy. The most important single individual the two future brothers-in-law managed to recruit during the company's formative days was Art Linares Sr., a veteran businessman and entrepreneur who was Art Jr.'s father and Mike's future father-in-law.
Art. Sr. supplied the new company with start-up capital, a vehicle and an office, which was located in the basement of his Westbrook home.

Like most new business entities Greenskies started slowly, growing at a modest but sustained pace. It completed its first solar installation, a 2.6 kilowatt project on the roof of a home in central Connecticut – the company's first and last residential installation – within a few weeks of its inception and by the fall of 2008 had added its first employee, Andrew Chester, as the company's chief business development operative.
From there, the fledgling company began building larger and more complex projects for commercial and academic customers in both Connecticut and Massachusetts. Its early customers included Astro Chemicals Inc. of Springfield, Mass., Assumption College in Worcester, Mass., and Sika Sarnafil, a multi-national commercial roofing and waterproofing company in Canton, Mass.
AND SO WE GREW
By 2009, Greenskies had polished and upgraded its business model enough to place it in a position to compete for customers with the larger and more established solar firms. Within two more years, the company had successfully competed for, financed and constructed several large commercial systems, including dozens of rooftop installations for both Target Corp. and Walmart Stores Inc. Not only did Greenskies win those relationships outright in direct competition with virtually every solar developer in the nation, but even more importantly, it exceed its clients' expectations in the process, which helped it earn the opportunity to expand and continue those partnerships.

In 2014, the company completed and activated the "Antares Solar Farm," a 5 MW, ground-mounted solar installation on a 43-acre tract of land in East Lyme, Conn., one of the largest solar projects in New England.
As the company continued to grow throughout the first decade and a half of the new millennia, it was remarkably successful in identifying and recruiting a series of exceptionally talented individuals who collectively brought the company's level of professionalism, insight, knowledge and expertise to new levels. Among the new team members who joined the company during this period were Will Herchel, now the company's vice president of legal affairs and general counsel; Steve Denino, now its executive vice president of engineering, procurement and construction; Steve Gianotti, controller; and Chris Palmer, vice president of engineering and design.
The influx of multi-talented individuals has continued into 2016 with the addition of Alex Figueroa, chief financial officer, in February.
Since its founding in 2008, Greenskies has grown from two entrepreneurs with big dreams and little experience to the nation's foremost solar developer in the C&I niche. By the middle of 2016, the company had close to 100 employees and had raised more than $600 million of capital for the nationwide development of solar projects.
Overview

IN BRIEF


Greenskies is a Connecticut-based solar integrator that originates, finances, designs, builds, monitors and maintains solar photovoltaic systems for commercial and industrial clients, municipalities and government agencies, educational institutions and utilities throughout the United States. By working with a variety of solar photovoltaic panel manufacturers and taking advantage of the most cutting edge technology available, Greenskies is able to optimize each project site, creating a customized solar system that will generate solar energy at its peak performance.
PROJECT LOCATIONS ACROSS THE U.S.

bright future
We've partnered with some of the biggest banks and financial corporations in the country. Those partnerships, combined with our ability to bring the latest and most efficient technology into play, are the key factors underpinning our long-term growth projections. Greenskies remains a private company with no corporate level debt. We have more than $300 million in assets under operation and we own 92% of our installed systems.
Of the projects we own, 100% are in partnership with investment-grade off-takers, providing valuable and predictable long-term cash flows that exceed our lean operating expense structure.
Greenskies finances energy projects using a combination of debt and tax equity investment and retains 100% interest in the operations and maintenance of the projects it develops. This ongoing involvement in all of its projects ensures that Greenskies will be a long-term partner with its customers and remains committed to the optimal performance of those assets.
As it evolves from a entrepreneurial venture to a mature and sustainable business enterprise, Greenskies looks forward to maintaining, expanding and strengthening its relationships with its customers and business partners.