schools & universities
Schools can always benefit from a little extra money in the budget. The problem is finding it.
What if we told you we could find it for you: without making cuts anywhere, without the need for grants, and without organizing a fundraiser. With Greenskies, you'll start saving money right away with no upfront costs. Using a Power Purchase Agreement (PPA), a solar installation dedicated to your school can save a significant amount of money in the first year. That's money that can go right back to the students. Or a teacher's salary. Or even much needed updates to your school's infrastructure.
If a solar installation can save a program or a teacher's job, by simply cutting your schools energy costs, then we've done what we set out to do.

At Greenskies we believe education is the key to our future. That's why we developed a solar program that doesn't just save you money, but also educates students about the long-term benefits of solar energy.
Schools can benefit from solar energy in a number of ways:
Reduce your carbon footprint.
Cutting your energy costs significantly can result in better programs for students and help ensure the longevity of your school's future.
Our educational programs help students understand the benefits of solar, not just for their school, but for everyone's future.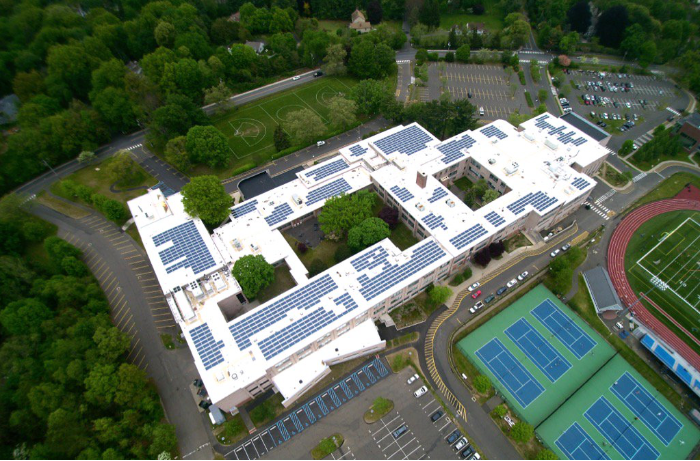 What is a PPA
For schools like yours, Greenskies utilizes a Power Purchase Agreement ("PPA") that has since become the standard for all our Commercial and Industrial clients, as well. The PPA allows you to obtain your green energy objectives and realize substantial savings with no capital outlay. The relationship is beneficial as commerical building owners and schools do not have the ability to monetize current incentives and the PPA allows them to make significant investments with only an obligation to purchase the electricity generated at a reduced rate for the term of the PPA.
The benefits of a PPA
No upfront capital costs
Savings start immediately after installation becomes operational
Fixed rate over 20 years so you know exactly how much you'll be saving
Watch the video below to understand how a PPA works.
education
Greenskies' goal of a sustainable energy future is unachievable without a commitment to the next generation of innovators in green technology. For this reason, we have been working to develop ways of supporting schools in that mission.


Curriculum Offerings
Greenskies is proud to now be working Solar¹ (pronounced: "solar one"), a NSF funded non-profit out of New York City that provides K-12 curriculum materials, learning toolkits, and PD opportunities to schools. Through membership into Solar¹'s Sustainable Schools Network students have the opportunity to:
Design and Innovate, applying STEM skills to solve environmental challenges
Use the school building as a learning laboratory to take action to reduce energy use and
Learn about emerging technologies: from solar and smart grid to biomimicry and bioswales
School-wide access to Solar¹'s Green Design Lab curriculum is a $1,000 value that Greenskies will be offering to schools with PV systems at no cost.
In addition, we are offering schools the opportunity to purchase a learning toolkit that accompanies the curriculum and contains valuable learning materials such as miniature solar panels, mulitmeters, and the associated wiring. The kit is designed to cover both introductory activities and in depth solar assessment, to expose students to solar industry tools and learn the process behind developing solar installations. This toolkit has a value of $900 and again, Greenskies is offering this to schools at no cost to the school.
For more information on the Green Design Lab curriculum and Solar¹, you can visit the following websites:
http://www.thegreendesignlab.org/
Scholarship Opportunities
In an effort to give back to the communities that have supported Greenskies' mission of providing clean, renewable energy we have created the Greenskies Renewable Energy Innovation Scholarship. Greenskies will be awarding a $1000 scholarship to five (5) high school seniors. The application process requires a recommendation from a core academic teacher and an open essay response. For more information please visit www.greenskies.com.
Speakers
At Greenskies, human capital is our greatest asset. Success has been built on the back of the Greenskies employees and along the way they have learned a great deal about many topics. Greenskies makes high-level executives and team members available to schools, if desired, to speak to students and participate in career-based learning. As we employ professionals with a wide-variety of specializations, we offer speakers to schools on wide-variety of topics from entrepreneurship, to engineering, to politics, to finance and of course renewable energy.
For more information on working with Greenskies or our educational programming,
please fill out the form below.